What Are Investor Relations (IR)?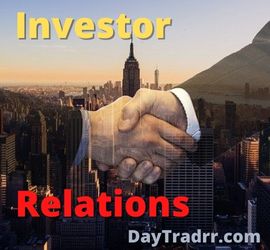 Investor relations is a function within a publicly traded company that provides operational and performance information about the firm to the investment community.  The investor relations (IR) department is a branch of a company, typically a publicly traded firm.  Its mission is to give investors an accurate description of the company's operations. This enables private and institutional investors to make informed judgments about whether or not to invest in the company.
Investor Relations (IR) is a discipline that integrates specialties including finance, communication, and marketing.  They are tasked with efficiently managing the flow of information between a public company, its investors, and its stakeholders. Investors play a significant and critical part in a company's success and growth. To this end, it is critical for businesses to establish strong, honest relationships with investors. This is where a company's investor relations department comes in.
Investor Relations (IR) – A Closer Look
Investor relations help to ensure that a firm's publicly traded stock is traded fairly by disseminating crucial information.  This allows investors to assess if a company is a smart investment for their specific needs. IR departments are often sub-departments of public relations (PR) departments.  The common goal is to connect with investors, shareholders, government organizations, and the financial community as a whole. Before going public, companies typically begin to create their IR departments. During the pre-IPO phase, IR departments can assist as a check-and-balance in the corporate governance process.  For example, conducting internal financial audits, and engaging in communications with potential IPO investors.
When a company initially seeks to go public, some institutional investors are likely to become interested.  These are experienced investors who will look closely at the company as an investment vehicle. When institutional investors become interested, they need thorough, detailed information about the company. The company's IR department usually interfaces to offer a description of the company's products and services.  As interest becomes broader, so too does the detail of information.  This can include financial statements, financial statistics, and an overview of the company's organizational structure. The primary duty of the IR department is to interact with investment analysts.  In turn, these analysts provide public opinion on the firm as a potential investment opportunity.
Investor Relations: The Department
Investors are critical to the success of a publicly traded company. Initial investors ultimately get a new company off the ground.  Their investments fuel the nascent company's growth and continued operational success. As a result, it is critical for firms to communicate effectively and honestly with investors. For that purpose, businesses generally establish and rely on an investor relations (IR) department. An IR department may be limited to one person or a team of employees, depending on the size and scope of a corporation.  Also, its size can hinge on the number of investors. In general, the IR department maintains open lines of communication and information between investors and the company.
The Need for Investor Relations (Sarbanes-Oxley Act)
In 2002, the Sarbanes-Oxley Act was passed.  It is otherwise known as the Public Company Accounting Reform and Investor Protection Act.  The legislation drastically increases how much and how often publicly traded companies are required to report financial and trading information. In turn, this increases the necessity for public corporations to establish internal divisions dedicated to investor relations.  IR departments now often coordinate reporting compliance and reliable financial information disclosure. Since 2002, there has been a continual and evolving drive for corporations to be more transparent with investors.  Companies proactively comply when they establish and empower a robust and efficient IR department.
Requirements for Investor Relations
IR teams are often in charge of organizing shareholder meetings and press conferences and disclosing financial data.  They are often tasked with leading financial analyst briefings and issuing reports to the Securities and Exchange Commission (SEC).  Of course, they must deal with the public in the event of any financial crisis. However, IR responsibilities are unlike other components of public relations (PR)-driven departments.  Investors are the primary consideration.  Therefore, IR departments must be intimately connected with a company's accounting department, legal department, and executive management team.
Furthermore, IR departments must be informed of changing regulatory constraints.  Their role is to advise the company on what can and cannot be done in terms of public relations. For example, IR teams must lead and direct PR activities during quiet periods.  This pertains to the time periods when publicly traded companies' quarterly earnings reports are published. Leading up to the release of earnings, it is forbidden to discuss specific aspects of a company's performance.
Ultimately, the primary duty of the IR department is to interact with investment analysts.  In turn, the analysts provide public opinion on the firm as an investment opportunity. These views have an impact on the investment community as a whole.  Therefore, it is the IR department's responsibility to control analysts' expectations.
The Face of the Firm
The senior executives of a firm must juggle a large number of jobs on a daily basis. The IR department will frequently assist with some of these activities.  For example, investor relations will frequently be the point of contact where news from Wall Street arrives.  It will also be the conduit through which the firm interacts back. IR positions itself to be a company's face in the financial markets. Of course, many investors and shareholders regard the CEO or CFO as the company's face.  However, a closer look at the biggest publicly traded firms usually reveals the IR department at the epicenter.
Center of Communication
IR serves as a conduit through which investors connect with a publicly traded company. Investors and analysts are typically sent through the IR department, which serves as a type of catch-all.
Information portal – Whatever the IR department is capable of handling, delegating, or assigning elsewhere, it will do so without engaging senior management. This interface is necessary to prevent overburdening executives, who have other essential jobs to complete.  IR is the first stop for most information requests that arrive at the company's door.
Information filter – IR serves as a filter between the investment community and the firm. As such, IR informs a firm's executives about how its investors see the company. IR strives to communicate what the investor community sees as the company's assets and weaknesses. Ultimately, the focus is on what will drive share value based on present and predicted investor demands and needs.
Voice of the company – An effective IR department must communicate the company's values, interests, and objectives back to the investment community.  This involves financial metrics, namely profit margins, anticipated targets, Earnings Per Share (EPS), and dividends.
Example – Investor Relations Pitfalls
Robinhood is a well-known online investment app that debuted on April 18, 2013. However, users were not pleased with the company's choice to remove stocks from its platform in 2021. The decision, according to Robinhood, was taken to protect its clients and was required for risk management reasons. The premise of Robinhood's brand was that it was "on a mission to democratize finance for everybody." Companies take a long time to create a brand, but they may lose it almost overnight. Robinhood allows users to trade stocks without paying a commission.  As a result, the company is well-known and appeals to young and inexperienced investors. However, Robinhood became the center of attention after it chose to halt trades in GameStop shares on January 28, 2021. Shares of the video game store skyrocketed as traders rushed to acquire the company's stock.
Robinhood GameStop backlash
A Robinhood user filed a class-action lawsuit. The trading app was accused of "manipulating the market for the benefit of people and financial organizations who were not Robinhood customers." The lawsuit also accused Robinhood of negligence and breaking its fiduciary duty to prioritize its clients' interests. Another user filed a lawsuit, claiming that the decision to block Blackberry, Nokia, and AMC theater trades was made "to preserve institutional investment at the expense of regular users."
The lawsuit, filed in federal court in Manhattan, claims Robinhood removed the video game retailer "purposefully and knowingly to manipulate the market." The suit accuses Robinhood, a popular trading and individual brokerage app used by retail investors, of breaching its contract by failing to disclose it "was going to randomly pull a profitable stock from its platform." It also accuses the company of negligence and of breaching its fiduciary duties and its "implied covenant of good faith and fair dealing." (Source: msnbc.com)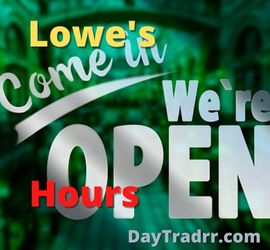 In general, Lowe's is open for business from 6 am to 10 pm daily.  Lowe's hours are ultimately determined by the specific location.  For example, some locations close an hour earlier each day at 9 pm.  Others open later and close earlier on Sundays (8 am – 8 pm).  However, the majority of retail locations are open for business from 6 am to 10 pm daily – including Sundays.
Lowe's is actively pursuing a closer relationship with home improvement industry clients. Lowe's MVPs Pro Rewards and Partnership Program is a new loyalty program launched by the home improvement retail behemoth in 2022. The program builds on Lowe's existing credit offerings for professionals, which include 5% off every day on eligible purchases and 0% interest for 60 days for Lowe's Business Advantage accounts.