Disney Investor Relations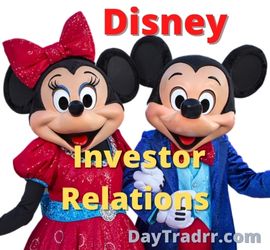 The Disney Investor Relations team manages the information flow between the company, the financial community, shareholders, and other stakeholders.  To be successful, they must effectively leverage finance, communications, and marketing with investors and buy and sell-side analysts.  The team is the primary portal for information.  They disseminate quarterly profit figures, historical performance, extensive technical data, strategic direction, and the narrative of "the Disney story."
The Disney Investor Relations portal lets you quickly find essential information to assist you.  The company provides direct connections to its most current news releases, earnings reports, SEC filings, and other useful tools for investors.  (Image Source: pixabay.com)
How to Buy Disney Shares
There are three main ways to invest in The Walt Disney Company (NYSE ticker: DIS)
Buy Disney Shares directly from Disney
The Walt Disney Company allows you to purchase stock directly from them rather than through a brokerage service. You can begin participating in Disney's direct stock purchase plan by completing an enrollment form.  Then, make either an initial cash commitment of $175 or authorize monthly deductions of at least $50 from a bank.  The monthly withdrawals will be used to purchase Disney's stock on a continuous basis. All dividends are automatically reinvested in Disney common stock.  Under this strategy, you can sell all or a portion of your stock through the plan. When purchasing Disney stock, you can also purchase a $50 Disney Collectible Shareholder Certificate. When presenting shares as a gift, many people purchase the certificate to memorialize the occasion.
Purchase Disney Shares with a brokerage account
To buy individual stocks, you must first open a brokerage account. In just a few minutes, you can open a brokerage account online. Each brokerage firm has its unique price structure.  So, before opening an account, compare projected charges, such as online trading fees. Some brokers have high minimum investment requirements but offer free analytical tools.  Others have low minimum requirements and offer trades with no fees. Once you select a broker and fund your account you can begin investing your money.
You can buy individual stocks if you want to buy only Disney shares. Disney trades on the New York Stock Exchange with DIS as the company's ticker symbol.  In your brokerage account, go under the buy or trade section. Input Disney's ticker symbol, then list how many shares you want to buy. When purchasing individual equities, wealth managers recommend you keep any investment to 5% to 10% of your total portfolio. That way, if the value of Disney's stock falls, you won't lose your entire investment. Wealth managers endorse diversification for long-term wealth preservation and stability.
Invest in mutual funds, index funds, and ETFs
Individual stock purchases might be considered risky. There is greater security in diversifying your portfolio.  However, in order to properly diversify, you'd have to investigate and purchase stocks from 30 to 50 additional companies.  This can be time-consuming and expensive. Investing in mutual funds, index funds, or exchange-traded funds (ETFs) rather than individual stocks is another alternative to explore. You can invest in hundreds of companies at once with these types of investments.
If one firm underperforms, you will not lose your entire investment.  The other companies in the fund will help offset such losses. Disney is included in many funds. For example, below are listed the top 5 mutual funds that hold Disney stock with the percentage they own:
Vanguard Total Stock Market Index – 2.96%
Vanguard 500 Index Fund – 2.23%
Fidelity 500 Index Fund – 1.07%
SPDR S&P 500 ETF Trust – 1.07%
iShares Core S&P 500 ETF Trust – 0.88%  (Source: money.cnn.com)
Disney Investor Relations Salaries
Walt Disney Investor Relations Manager – The average Walt Disney Company Investor Relations Manager earns an estimated $100,055 annually. The Walt Disney Company's Investor Relations Manager's compensation is $12,752 more than the US average for an Investor Relations Manager.
Disney Investor Relations Agent – The average Walt Disney Company Investor Relations Agent earns an estimated $59,042 annually. The Walt Disney Company's Investor Relations compensation is $22,888 less than the US average for an Investor Relations staff member.
Walt Disney Communications Personnel – The Communications Department at The Walt Disney Company earns $3,032 more on average than the Enterprise Risk Department. (Source: comparably.com)
New Head of Investor Relations – Alexia Quadrani
Alexia Quadrani is Disney's new head of investor relations. Quadrani succeeds Lowell Singer.  She was most recently managing director and senior analyst at J.P. Morgan's media equity research group.  She will report directly to Disney Chief Financial Officer Christine McCarthy. Quadrani will act as Disney's information liaison to the worldwide investment community.  The new head is expected to be a significant advisor and resource to the company's executive leadership. Her duties include strengthening Disney's contacts with sell-side and buy-side investment analysts, industry experts, and investors around the world. She will also contribute to the company's financial reporting efforts, handle stock share administration, and oversee continuing engagement with the governance community and ESG-focused investors.
"Alexia is a highly skilled financial professional whose expertise as an industry analyst and strong network of relationships across the investment community make her an excellent choice to lead our investor relations team," McCarthy said in a statement. "I am confident that Alexia's deep knowledge of the media sector, and Disney's business in particular, make her especially well-suited to communicate our long-term strategy and financial performance to the investor community, and I am very excited to welcome her to my team." (Source: mediaplaynews.com)
By Phone: Call 1-855-553-4763 for Disney Shareholder Services at Computershare. Toll number: 1-781-575-3335.
With Disney's direct stock purchase plan, you can start investing by completing an enrollment form and making either an initial cash investment of $175 or by authorizing monthly deductions of at least $50 from a bank account to purchase Disney's stock.
Walt Disney Company (DIS) – Disney does allow shareholders to order collectible stock certificates. But the company no longer offers any tangible investors benefits. At one time, Disney would offer its shareholders discounts on amusement park tickets, resort bookings, and more. But these promotions have been discontinued. 
Do other companies have investor relations departments?
In 2002, the Sarbanes-Oxley Act was passed.  It is otherwise known as the Public Company Accounting Reform and Investor Protection Act.  The legislation drastically increases how much and how often publicly traded companies are required to report financial and trading information. In turn, this increases the necessity for public corporations to establish internal divisions dedicated to investor relations.  They proactively promote corporate stewardship and proper corporate governance.  Examples include Home Depot Inc. and American Express Company.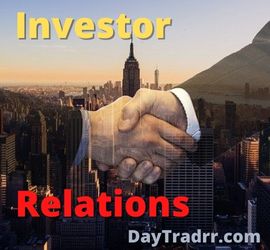 Investor relations is a function within a publicly traded company that provides operational and performance information about the firm to the investment community.  The investor relations (IR) department is a branch of a company, typically a publicly traded firm.  Its mission is to give investors an accurate description of the company's operations. This enables private and institutional investors to make informed judgments about whether or not to invest in the company.
Investor Relations (IR) is a discipline that integrates specialties including finance, communication, and marketing.  They are tasked with efficiently managing the flow of information between a public company, its investors, and its stakeholders. Investors play a significant and critical part in a company's success and growth. To this end, it is critical for businesses to establish strong, honest relationships with investors. This is where a company's investor relations department comes in.