American Express Address – Headquarters – Investor Relations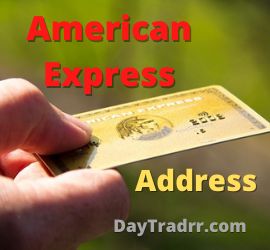 The American Express Address varies depending on the particular financial service or department you are looking to contact.  The American Express address for Corporate Headquarters is 200 Vesey Street, New York, NY 10285-3106200. American Express is a financial services firm and one of the Dow Jones industrial average's 30 component companies.
The company provides charge and credit payment card products and travel-related services worldwide directly and through its subsidiaries. Its travel and lifestyle services include payment and financing products, network services, and accounts payable expense management products. Moreover, AmEx offers a wide range of card services like charge cards and credit cards.  In fact, the company operates the fourth largest general-purpose card network in the world.
American Express Company is an integrated payments company. The Company provides its customers with access to products, insights and experiences that builds business. It also provides credit and charge cards to consumers, small businesses, mid-sized companies, and corporations around the globe. Its various products and services are sold to diverse customer groups through various channels, including mobile and online applications, affiliate marketing, customer referral programs, third-party service providers and business partners, direct mail, telephone, in-house sales teams, and direct response advertising. The Company is engaged in businesses comprising three reportable operating segments: Global Consumer Services Group (GCSG), Global Commercial Services (GCS) and Global Merchant and Network Services (GMNS). It operates a payments network through which it maintains relationships with third-party banks and other institutions. (Source: reuters.com)
American Express Address – Corporate Headquarters 
American Express's corporate headquarters are in New York, New York, United States. For any critical communications with American Express's corporate office, use the following address:
American Express Company
200 Vesey Street
New York, New York 10285
Phone: 212-640-2000

(Source: americanexpress.com)
American Express Address – Bill Payment Mailing Address
You can make a payment online anytime. Additionally, when you pay online, the money will be credited to your account within 24-36 hours. However, many still prefer to mail a payment.  In that case, AmEx asks that you make it payable to American Express using a check or money order. Also, please provide your account number at the top of your payment.
First Class Mail – American Express, P.O. Box 650448, Dallas, TX 75265-0448
Express Mail – American Express, Attn: Express Mail Remittance Processing, 20500 Belshaw Ave., Carson, CA 90746
(Source: americanexpress.com)
American Express Address – Investor Relations Office
The investor relations (IR) department is a branch of a company.  Its mission is to give investors an accurate description of the company's operations and state of affairs. This enables private and institutional investors to make informed judgments about whether or not to invest in the company. AmEx's Investor Relations Department integrates finance, communication, and marketing to efficiently manage the flow of information between the company, its investors, and its stakeholders. Of course, AmEx understands that investors play a significant and critical part in a company's success and growth. As a result, it is critical for businesses to establish strong, honest relationships with investors.
For any important investor relations contacts, American Express lists the following Investor Relations contact address and information: 
American Express Investor Relations Office
Investor Relations Office Address – 200 Vesey Street, New York, NY 10285-3106, Phone: 212-640-5574, Email: IR@aexp.com
SVP Kerri Bernstein – Senior Vice President, Head of Investor Relations,                                                          Phone: 212-640-5574
VP Michelle Scianni – Vice President, Investor Relations
Phone: 212-640-5574
Director Amanda Blumstein – Investor Relations Director
Phone: 212-640-5574
Manager Sagar Khetpal – Investor Relations Manager
Phone: 212-640-5574
HR Email Address
Are you interested in working with American Express? Do you have any special Human Resources questions? You can send a message to AmEx Human Resources Department – email: global.recruiting@aexp.com.
American Express Address – General Enquiry Email & Numbers
American Express general inquiry numbers are available on the internet. Common general inquiry numbers of American Express are given here.
Toll-free number (USA): 1-855-297-7327
Global Corporate Payments Talk to a Representative: 1-855-407-0445
Customer Service – Toll-free Number: 1-800-528-2122
Call to Apply for Credit Card: 1-877-673-6758
Tailored Made Credit Card – Corporate Program: 855-407-0599
Additional Cards Request – Toll-Free (Personal Cards): 1-800-801-6564
24-Hours Customer Service (Personal Cards): 1-954-503-8868
American Express Travelers Cheques and Gift Cheques: 1-800-221-7282
American Express Gift Cards: 1-877-AXP-GIFT
Business and Financial Institutions – Contact Details
American Express has a payments business called American Express FX International Payments. International Payments allows users to quickly generate six different types of foreign exchange transaction reports.  All of which can be viewed online or exported as Excel documents. American Express business contact information is provided below:
Business Customer Service Phone: 1 833 319 7265
Business Customer Service Fax: 1 623 444 3040
Customer Service Email: amexip@aexp.com
Financial Institutions Customer Service Email: USFIINV@aexp.com
Mailing Address: American Express FX International Payments, 3 World Financial Center, New York, NY 10281
Misc Contact Details
American Express Customer Service: 1-800-528-4800
Membership Rewards Program Customer Support: 1 888 391 9971
Membership Rewards Program New Customer Support Number: 1 833 319 7265
How to Call American Express
Typically, calls to customer assistance for any company are inconvenient. To get to the department you're looking for within American Express, you'll have to select many options. Also, you may be placed on hold for an extended amount of time. Moreover, if you do not call within business hours, you may be sent to a department about which you know nothing. Here are a few helpful phone numbers that may make your call easier and allow you to get answers from customer support.
Use your country's American Express contact number. If you are in the United States, dial 1 (800) 528-4800. If you are outside the United States, use the American Express contact list to discover the number for your country. Visit the American Express international number contact list to find the number for the country where you are located.
For inquiries related to paying your bill – If you need to contact the company about paying your bill, then call 1-800-472-9297 in the USA.
Applying for an American Express Card – To talk to a representative about applying for an American Express card in the USA call (800) 223-2670 (hours are 6 AM to 2 AM ET, 7 days a week)
How to Call AMEX While Traveling 
For a US citizen traveling overseas, you could lose your American Express card, or your card could be denied.  In these instances, you can contact customer service through your online account. If you need to call AMEX by phone, you can call collect by asking the operator to make a collect call.  Then, use the access code for your location and dial + 336-393-1111. To make the call, your cell phone company may charge you roaming costs or overseas minutes. If you need to pay your payment while abroad, you can do so by calling AMEX at 1-800-472-9297.
IRS Code 971 on an IRS Transcript indicates different possible actions based on the specific Action Code. The IRS usually sends a letter providing more details. Transaction codes and tax topics are used across IRS refund applications, tools, and account transcripts.  They are meant to inform individuals and business taxpayers about what is currently happening with their tax return processing.  These codes can indicate potential delays, when a refund will be paid, or why it was less than expected. Many taxpayers check their IRS account tax transcript for an update on their tax return processing and refund status.  This can be helpful when no information comes up using the Where is My Refund (WMR), IRS2Go Mobile App, or Your IRS Online Account.
Tax transcripts will frequently contain distinct codes to convey information to taxpayers. Keep in mind that the IRS tries to protect a taxpayer's privacy. The code system might initially appear to be complicated and confusing,  However, IRS code 971 on an IRS transcript in 2022 & 2023 is fairly straightforward.