Lowe's Hours – What Are Lowe's Store Hours?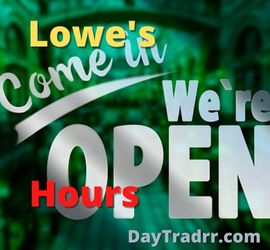 In general, Lowe's is open for business from 6 am to 10 pm daily.  Lowe's hours are ultimately determined by the specific location.  For example, some locations close an hour earlier each day at 9 pm.  Others open later and close earlier on Sundays (8 am – 8 pm).  However, the majority of retail locations are open for business from 6 am to 10 pm daily – including Sundays.
Lowe's is actively pursuing a closer relationship with home improvement industry clients. Lowe's MVPs Pro Rewards and Partnership Program is a new loyalty program launched by the home improvement retail behemoth in 2022. The program builds on Lowe's existing credit offerings for professionals, which include 5% off every day on eligible purchases and 0% interest for 60 days for Lowe's Business Advantage accounts. Lowe's MVPs Pro Rewards offers new and existing professional loyalty members benefits including:
Lowe's e-gift cards – Are earned when participating professionals spend in-store and online on eligible purchases.
Professional business resources – Access to business resources designed to help professionals tackle back-of-house operations.
Exclusive offers – Targeted offers and rewards on eligible paint purchases and free select snacks or drinks at Lowe's stores.
Prizes – A chance to win prizes, including Ford F-Series trucks and custom-built local advertising packages.
Online and mobile access – A streamlined mobile and online user experience allows professionals to track and claim rewards, even when sending a crew member into the store.
Bonus points – Earn bonus points that can be used for additional rewards. (Source: lowes.com)
Lowe's Hours – Focus on the Pro Customer
The company recognizes that Professional clients visit Lowe's more frequently than regular consumers. Lowe's hours are from 6 am to 10 pm for convenient access before, during, and after normal working shifts. Furthermore, the Pro product market is worth more than $400 billion.  Moreover, it is predicted to grow faster than the broader home improvement market in future years. The revamped shopping experience includes many new features. The Pro Zone is a dedicated section for grab-and-go products.  For example, popular pro items, new products, and value packs. The department is placed near the professional entrance.
"We're deepening our partnership with Pro customers because when they succeed, we succeed. Lowe's MVPs Pro Rewards is another big step in Lowe's continued Total Home strategy when it comes to the important Pro customer. We are committed to a true business partnership mindset to help Pros as they grow their businesses and their futures." (Source: Tony Hurst, Lowes Sr VP)
Customer Service
You can prevent stress and long lines by first visiting Lowe's website. Online, you will find a list of frequently asked questions on the company's Contact Us page.  You may find similar issues and be able to resolve your current problem immediately.  The website includes a list of some of the problems you'll be able to quickly fix, for example:
Product recalls – Locate information on recalls and product safety news
Exchanges – Return or exchange an item
Tax-exempt orders – Place an order with a tax-exempt account
Military discounts – Verify your military credentials & register for the military discount
Cancellations – Cancel an item from your order
Shop – Find a product online
Order Status – Check your order status &  know if your order is ready to be picked up
Rebates – Submit a rebate
Account Status – Manage your account
Credit – Apply for a Lowe's Credit account
Reaching Customer Service by Phone
Call 1-800-445-6937 to talk with a Lowe's customer service representative. You can make an inquiry or find information about how to fix a problem with the company's products. Lowe's customer service hours are Monday through Sunday, 8:30 a.m. to 6:30 p.m.
Lowe's Hours – Frequently Asked Questions
Lowe's Companies Inc. is a FORTUNE 50 home improvement company with more than 2,200 stores and approximately 300,000 associates in the United States and Canada. Marvin Ellison is chairman, president, and chief executive officer. The company can trace its roots back to 1921. That's when a businessman named Lucian Lowe founded North Wilkesboro Hardware in Wilkesboro, North Carolina. Lowe's son, Jim, and son-in-law, Carl Buchan, would later run the business together.
How is Lowe's doing financially?
Lowe's quarterly net income increased slightly to $2.33 billion, or $3.51 per share, from $2.32 billion, or $3.21 per share, a year earlier. The results were above the $3.22 expected by analysts surveyed by Refinitiv. (May 2022)
What is Lowe's Return Policy?
Lowe's return policy allows customers to return most items for a refund within 90 days. The policy states that products must be "new and unused".  This is required in order for customers to receive a full refund within 90 days of receiving the item. Just bring qualifying merchandise to your local retailer and proceed to the customer service desk.  Then, show proof of purchase as well as a valid photo ID.  For returns without a valid receipt, the company may give in-store credit for the item's current selling price at its discretion. You will still need to present proper identification. They will not process the return unless you have a proper photo ID.  For example, a driver's license or a state-issued identification card.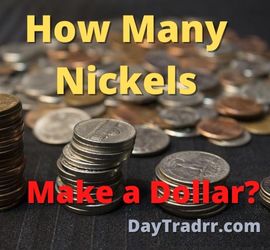 How many nickels make a dollar? There are 20 nickels in each dollar. The 5-cent coin is mostly made of copper but still contains 25% nickel. Each nickel costs 8.7 cents to make.
20 nickels are in $1.00
40 nickels make a roll of $2.00
100 nickels are in $5.00
200 nickels are in $10.00
2,000 nickels are in $100.00
The initial five-cent coins were quite small. They were called "half dimes," and they weighed exactly half as much as a dime.  Their worth was determined by the amount of silver used to create them. Because of its small size (approximately 16 mm), the half dime was difficult to handle and easy to misplace. In 1865, Mint Director James Pollock reasoned that a nickel alloy five-cent coin would make a good trade for the five-cent paper notes that were in circulation at the time. It also worked well as a substitute for the half-dime. Therefore, the nickel coin was introduced in 1866.  Nevertheless, the very little "half dime" continued to be produced until 1873. As a result, for several years, both types of 5-cent coins were minted and circulated.  They were different metals, sizes, and designs.  However, only one could truly be called a nickel.