NAKD Stock – What Investors Should Know
NAKD Stock, a retailer of clothing and swimwear is no longer in business. They acquired Cenntro Electric Group Limited and now trade as CENN. Naked Brand Group was known as an intimate apparel and swimwear retailer. Now, the Naked brand is no more.  It has morphed after acquiring Cenntro Electric Group Limited (NASDAQ: CENN).
During the pandemic, shoppers were evidently not in the mood to buy swimwear online.  In mid-2021, Naked Brand potentially faced being delisted from the Nasdaq entirely.  Rumors began to circulate when its stock price fell below the one-dollar per share threshold. The psychological significance of the $1 level is substantial in and of itself for shareholders.  However, if a stock falls below $1 and remains there, the Nasdaq exchange can de-list it. The threat occurred in April of 2021 when Naked Brand failed to meet Nasdaq's $1 minimum bid price threshold. Nasdaq granted Naked Brand 180 days to comply with the minimum requirement. After that period expired in October, Nasdaq extended it for another 180 days.
Then some unexpected changes occurred in rapid succession to the advantage of Naked Brand's investors. First, there was talk of shifting to an ESG (environmental, social, and governance) corporate model. Next, Naked Brand quickly courted commercial electric vehicle (EV) technology. In fact, it's no longer appropriate to refer to the company as Naked Brand Group. They announced an agreement to buy the outstanding stock shares of a commercial electric vehicle technology company.  In December of 2021, Naked Brand Group acquired Cenntro Electric Group, formerly known as Cenntro Automotive Group.
NAKD Stock Now Trades as CENN Stock
Naked Brand Group finalized the acquisition of Cenntro on December 31, 2021. As a result of the transaction, the company formally changed its name to Cenntro Electric Group Limited.  Moreover, it has adopted the ticker CENN stock. This marks the conclusion of Naked Brand and the start of a new chapter as CENN stock. In 2022, the company expects to deliver at least 20,000 vehicles.
However, achieving that goal will not be a simple task for Cenntro. In December 2021, the firm manufactured 628 electric commercial vehicles, a record for Cenntro, and a total of 1,623 for the entire year of 2021. Nonetheless, it's heartening to know that Cenntro ended fiscal 2021 with $250 million in cash and, more significantly, no debt. Furthermore, Cenntro asserts that it has the financial resources to support the expansion of its European operating center in Dusseldorf, Germany, as well as its new assembly plant in Jacksonville, Florida.
Hence, we're now bearing witness to the next chapter for this once embattled company. This is the end of Naked Brand and a new beginning as CENN stock. The company has guided for at least 20,000 vehicle deliveries in 2022. It won't necessarily be easy for Cenntro to achieve that goal, however. The company produced 628 electric commercial vehicles in December 2021 – a record for Cenntro – and a total of 1,623 during the full year of 2021. Still, it's encouraging to know that Cenntro finished fiscal 2021 with $250 million in cash and, importantly, no debt. Moreover, Cenntro claims to have the financial strength to support the expansion of its European operating center in Dusseldorf, Germany, as well as its new assembly plant in Jacksonville, Florida. Whereas Naked Brand Group was just trying to survive, Cenntro has international expansion plans and is fairly well-capitalized. (Source: nasdaq.com)
Hello CENN Stock – Goodbye NAKD Stock
Cenntro Automotive Group is a commercial EV technology business.  The company manufactures innovative, market-tested electric commercial vehicles. The headquarters of Cenntro Automotive Group, formerly known as Naked Brand Group Limited, is in Freehold, NJ, USA. The company announced that its trading symbol on the Nasdaq Capital Market (NASDAQ) changed from "NAKD" to "CENN" at the opening of market trading on Friday, January 14, 2022.
This follows the completion of Naked Brand Group Limited's acquisition of the outstanding capital stock of three entities constituting Cenntro Automotive Group.  As a result, the name changed to "Cenntro Electric Group Limited," and the trading symbol has been changed to CENN. Cenntro stockholders are not required to take any action to effect the change in the trading symbol. Cenntro's common stock will remain listed on NASDAQ, and the CUSIP number will stay unaltered.
"We are pleased that our new trading symbol now aligns with our brand and will strengthen our visibility with investors and provide consistent recognition to our shareholders as we reach another milestone as a public company. We remain committed to our vision and maximizing shareholder value by leveraging our IP and ability to design and produce innovative electric commercial vehicles while scaling our decentralized production model as we address the needs of growing market demand. (Source: Peter Wang, Chairman and CEO of Cenntro Electric Group Limited)
CENN Stock – SEC Filings
This page includes all SEC registration details as well as a list of all documents (S-1, Prospectus, Current Reports, 8-K, 10K, Annual Reports) filed by Cenntro Electric Group.
Cenntro Electric Group Investor Relations
Cenntro Electric Group trades on the Nasdaq Exchange using the CENN Stock ticker symbol. The company's online portal provides basic information to investors and shareholders.
About Cenntro Electric Group
Cenntro Electric Group is an electric light and medium-duty commercial vehicle ("ECV") designer and manufacturer. Its purpose-built ECVs are intended to provide city services, last-mile delivery, and other commercial applications for a variety of corporate and governmental entities. Cenntro's first ECV model Metro® had been sold or put into operation in over 16 countries.  Geographical regions include North America, Europe, and Asia as of November 30, 2021. Cenntro intends to lead the automotive industry transition.  They offer scalable, decentralized production and completely digitalized autonomous driving solutions driven by the Cenntro iChassis.
What happened to NAKD Stock?
On December 30, 2021, Cenntro became a public company on NASDAQ via a merger with Naked Brand Group. The company now trades under the ticker symbol "CENN" on Nasdaq.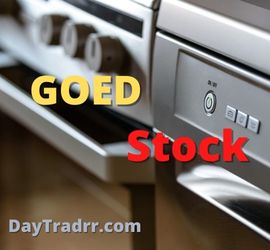 Goedeker Inc. (NYSE – GOED Stock) announced the company is rebranding under the new parent brand name of Polished (NYSE – POL) from July 2022.  Goedeker Inc. was founded in 1951 and was headquartered in Ballwin, Missouri. 1847 Goedeker Inc. is a subsidiary of 1847 Goedeker Holdco Inc. Goedeker Inc is evolving into an e-commerce destination for home furnishings, appliances, furniture, home goods, and associated products. It offers dishwashers, refrigerators, cooktops, wall ovens, dryers, and other appliances. Among the company's brands are KitchenAid, Whirlpool, LG, GE, Samsung, Kodiak, Catnapper, and ACME furniture.
Mid-2022, Goedeker announced the company is rebranding.  It will be operating under the new parent brand name of Polished going forward.  The company has a new ticker (NYSE American: POL), which became effective on or about July 22, 2022. The Company's warrants will trade under the symbol POL WS.