Stock CBLI – History of Mergers and Acquisition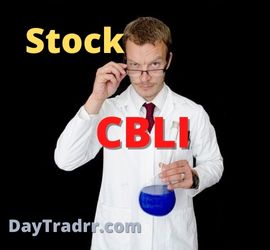 Stock CBLI traded as Cleveland Biolabs and then merged with Cytocom Inc., eventually changing the name to Statera BioPharma, Inc. (Nasdaq: STAB).
Cleveland BioLabs Inc was a biopharmaceutical business that was established in 2003. The firm created unique techniques to activate the immune system and address critical medical requirements. Its patented Toll-like immune receptor activator platform has implications in radiation harm mitigation and immuno-oncology. Entolimod is an immunostimulatory drug being developed as a radiation countermeasure and immunotherapy for oncology and other applications.  It is the company's principal product candidate. Entolimod is a Toll-like receptor 5 (TLR5) agonist being researched as a radiation countermeasure and oncology medicine.  Its application is to prevent death from Acute Radiation Syndrome (ARS).
Cleveland BioLabs Inc (Stock CBLI) merges with Cytocom Inc. 
Cytocom, Inc. became a publicly traded company after the merger with Cleveland BioLabs.  The merger was finalized in July of 2021. Cytocom Inc. trades on the Nasdaq under the ticker symbol CBLI Stock (NASDAQ: CBLI). The company's goal is to create a premier biopharmaceutical company focused on immunological restoration and homeostasis. The all-stock deal, which was first disclosed in October 2020, was finalized on July 27, 2021.
"With the Cleveland BioLabs merger completed and Cytocom now operating as a publicly-traded company, the management team at Cytocom is in the process of integrating both companies as we are rapidly advancing our late-stage clinical programs and expanding our toll-like receptor platforms. Furthermore, we believe, through the combination of the two companies, we have created one of the most compelling platforms in the immunotherapy space with 21 programs utilizing eight different assets.  We expect to achieve a number of financial and developmental milestones over the next 12 to 18 months that support our goal of becoming a recognized leader in immune-modulating treatments including neutropenia/anemia, emergent viruses, cancer, and autoimmune diseases. We intend to showcase the power of our drug development platform and further generate shareholder value." (Source: Michael K. Handley, President, and CEO of Cytocom Inc.)
Cytocom Inc (Nasdaq: Stock CBLI) Acquires ImQuest Life Sciences
Cytocom acquired ImQuest Life Sciences in an all-stock transaction. The deal was announced on July 20, 2020, and completed on June 23, 2021. Cytocom escrowed stock, which is accounted for in the existing public company's capital structure.  The stock will be utilized to deliver an aggregate of $12 million in value to Cytocom shares.  Valuation is based on the volume-weighted-average trading price of such shares commencing 30 trading days after the merger's completion. Continental Stock Transfer & Trust is responsible for distributing shares of Cytocom common stock to former ImQuest stockholders.
Cytocom Inc Files to Change Name and Stock CBLI Ticker Symbol
Cytocom, Inc. (Nasdaq: Stock CBLI), remains a biopharmaceutical business focused on immunological restoration and homeostasis.  However, the company has filed to change its corporate name to "Statera BioPharma, Inc."  To that end, they will update the ticker symbol to "STAB" effective Wednesday, September 1, 2021. Statera BioPharma (NASDAQ: STAB) intends to unveil a new company logo and open a new corporate website at www.staterabiopharma.com as part of the name change. Statera is a Latin term for "balancing." The corporate slogan "Restoring Immune Health" was chosen to better reflect the company's strategic focus.  Nevertheless, the company continues its attention on autoimmune and inflammatory diseases, blood disorders, infectious diseases, and cancer.
CBLI Stock – SEC Filings
This page includes all SEC registration details as well as a list of all documents (S-1, Prospectus, Current Reports, 8-K, 10Q, Annual Reports) filed by Cleveland BioLabs Inc (Stock CBLI). (Source: sec.gov)
Statera Biopharma – Investor Relations
Cenntro Electric Group trades on the Nasdaq Exchange using the CENN Stock ticker symbol. The company's online portal provides basic information to investors and shareholders.
Nasdaq Notification
On September 1, 2022, the Company was notified by The Nasdaq Stock Market LLC's Listing Qualifications Staff.  Its common stock was subject to delisting unless Statera Biopharma requested a hearing before the Nasdaq Hearings Panel. In response, Statera made the request for a hearing and another stay of Nasdaq's delisting action pending the hearing.  The action is scheduled for October 6, 2022.
Statera Biopharma has not yet filed with the SEC Form 10-K for the fiscal year ending December 31, 2021.  Nor, has the company filed Forms 10-Q for the quarterly periods ended March 31, 2022, and June 30, 2022.  As a result, Statera does not meet the filing requirement set out in Nasdaq Listing Rule 5250(c) (1). However, the Company intends to file the delayed periodic reports as soon as possible.  If necessary, it will request a further extension to do so at the hearing.  Hopefully, these actions will put the firm in compliance with Nasdaq's filing obligation.
The Company has not yet filed the Form 10-K for the fiscal year ended December 31, 2021, or the Forms 10-Q for the quarterly periods ended March 31, 2022, and June 30, 2022, with the SEC and, accordingly, does not satisfy the filing requirement set forth in Nasdaq Listing Rule 5250(c)(1). The Company plans to file the delayed periodic reports as soon as practicable and, at the hearing, will request a further extension to do so and thereby evidence full compliance with Nasdaq's filing requirement. (Source: cytocom.com/investors)
What Happens When a Stock Is Delisted?
First, the exchange issues a warning to a corporation for being out of compliance. If the corporation does not correct the problem by the deadline, it can request a hearing or extend the deadline.  However, if the company remains non-compliant, it is withdrawn from the exchange and trades over the counter (OTC).  Generally, OTC stocks can still be traded, but they require trading through a dealer network. Nevertheless, the mechanics of trading the stock remain unchanged, as do the fundamentals of the firm. As an investor, you don't always lose money.  However, being delisted has a stigma and is often a sign that a firm is troubled.  For example, bankrupt, close to bankruptcy, or can't fulfill the exchange's minimal financial requirements for other reasons. Also, delisting causes institutional investors to withdraw their funds.
Theoretically, a delisted stock can be relisted on a major market.  However, this is uncommon. The delisted company would have to avoid bankruptcy and resolve the issue that caused the delisting.  Moreover, it must become and remain compliant with the exchange's rules and criteria.
NAKD Stock, a retailer of clothing and swimwear is no longer in business. They acquired Cenntro Electric Group Limited and now trade as CENN. Naked Brand Group was known as an intimate apparel and swimwear retailer. Now, the Naked brand is no more.  It has morphed after acquiring Cenntro Electric Group Limited (NASDAQ: CENN).
During the pandemic, shoppers were evidently not in the mood to buy swimwear online.  In mid-2021, Naked Brand potentially faced being delisted from the Nasdaq entirely.  Rumors began to circulate when its stock price fell below the one-dollar per share threshold. The psychological significance of the $1 level is substantial in and of itself for shareholders.  However, if a stock falls below $1 and remains there, the Nasdaq exchange can de-list it. The threat occurred in April of 2021 when Naked Brand failed to meet Nasdaq's $1 minimum bid price threshold. Nasdaq granted Naked Brand 180 days to comply with the minimum requirement. After that period expired in October, Nasdaq extended it for another 180 days.