What is an Open Listing Agreement in Real Estate?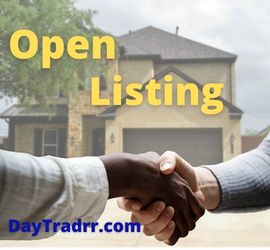 An open listing refers to a home or property for sale whose owner is either selling independently or using multiple real estate agents or brokers with no exclusive contract. An open listing has two implications in real estate. It can refer to a property for sale whose owner is working with several real estate agents to discover as many potential purchasers as possible. The commission is paid to the agent who brings in the winning buyer for the property. An open listing can also refer to a seller who sells their house or property without using a real estate agent or broker.
In either scenario, an open listing is the opposite of an exclusive listing. Owners that sign a typical exclusive listing with an agency or broker do not have the right to find the seller themselves.  Nor can they sell the house on their own. They must adhere to the terms of the agreement.  This means they are bound to a certain real estate agent for the duration of the transaction or a set number of days, whichever comes first. Any sale in a traditional listing must go through the contracted real estate agent or broker. On the other hand, the exclusivity condition is removed in an open listing. This implies that the owner may find and sell the house on their own if they so want. They can also engage as many brokers and agents as they like to promote the listing and sale.
Open Listing – A Closer Look
An open listing is generally referred to as a nonexclusive listing agreement with one or more real estate agents. All agents involved in the sale of this property are entitled to a commission if and only if they eventually bring in the buyer. A seller may use many agents for a variety of reasons.  For example, a home may need to be sold quickly in the case of a divorce. Or, the owner may want to generate additional interest for a house that has been on the market for too long.
In some instances, the seller may simply be trying to save money by handling offers for the property directly. Such properties are frequently advertised as "for sale by owner". This status may attract thrift-minded buyers, who figure that the asking price for the property will be lower. This is because the seller doesn't have to build some of the commissions into it.
An open listing permits any interested agent to display and sell a property.  Further, this non-exclusive listing agreement permits the owner to hire many brokers at the same time. Typically, the agents or brokers do not go to great lengths to promote or publicize the property.  However, they do have the authority to display it to any prospective purchasers. If they sell it, they get paid their portion of the sales commission. This form of listing has advantages for property owners. They only pay the agreed-upon commission if the agent successfully brings a buyer. The agent is not required to split the commission.
How Does an Open Listing Work?
Working with open listings is quite straightforward. The following are things that both vendors and purchasers should be aware of:
Find a willing broker – The seller begins by approaching one or more brokerages and requesting an open listing. They may be rejected more often than not. Many brokerages will not participate in an open listing. As a result, it may take some time to identify one or more brokers willing to cooperate with you.
Execute a non-exclusive contract – Once a willing broker is located, the seller executes a non-exclusive agreement. The agreement will contain the contract terms and conditions as well as the commission specified.
Let the games begin – To get the sale, brokerages and agents compete. At the same time, if a person approaches the seller, the seller can initiate a "for sale by owner" deal.
And the winner is – The commission goes to whoever sells the house. The contract specifies who pays the commission. However, only the agent and brokerage who complete the sale will likely be compensated for their efforts. This encourages brokers and agents to consider all bids, which they should be doing anyway.
Open Listing – Why Brokers and Agents Avoid Them
Some real estate brokers and agents oppose open listings.  There are a number of reasons, the most prevalent explanations are as follows:
Potential conflict – There is a significant risk of confrontation. Though it is not widespread, there have been instances where sellers claimed to have previously met a possible buyer introduced to them by an agent. This can lead to squabbles about whether or not an agent is entitled to their commission.
Fierce competition – There is tremendous rivalry for a sale. When it comes to selling properties, real estate agents already have a difficult job. The fact that others are attempting to sell the same property just increases the pressure. Many professionals do not want the added complexity and pressure.
No guarantees – Even if the house sells, there is no assurance an agent will get a commission. Under a normal agreement, the listing agent's efforts will be rewarded as long as the house sells. This is not the case with open listings. Another realtor might suddenly appear with a buyer and walk away with the commission. Any work you performed will be in vain.
Lack of commitment – The seller's lack of commitment can demotivate seller representatives. Unless a buyer falls into their lap, no agent wants to expend energy finding a buyer for a tightwad owner.  Because open listings offer restricted opportunities for agents to earn a commission, they may prefer to focus their efforts on exclusive contracts. Some real estate agents state that they will only handle properties for which they have exclusive selling rights.
How Much is the Typical Realtor Fee?
The typical realtor fee is 6% of the final sale price. The commission is split evenly, with 3% going to the listing agent and their broker, and 3% going to the buyer's agent and their broker. The home seller pays both the buyer's agent and the listing agent's commission unless negotiated otherwise. How does this actually shake out? On the sale of a $600,000 home, the fees generally break down as follows:
Listing agent's broker – 1% ($6,000)
Listing agent – 2% ($12,000)
Selling agent – 2% ($12,000)
Selling agent's broker – 1% ($6,000)
Frequently Asked Questions
Can Brokers & Agents Decline Open Listings?
Most states do not have a statute requiring all agents to agree to represent persons who come to them for assistance. This applies to open listings as well. This does not, however, imply that the real estate agent you wish to engage has the authority to make that choice. In many circumstances, they have no control. Instead, a broker makes the choice. Many brokerages have regulations that prohibit their participating agents from taking on an open listing.  Primarily, this is due to the risk of investing time and resources with no guarantee of a payout. If the agent you prefer works for an exclusive-only brokerage, you have a simple choice.  You must pick between an exclusive contract and another agent.
What is an Open Listing vs For Sale by Owner (FSBO)?
You do not utilize a listing agent when you sell by owner. As a result, you will not have to spend half the realtor costs that typical sellers do. However, you still need to provide a competitive buyer's agent commission. If you go FSBO, you will be responsible for everything that your listing agent would have done on your behalf. This makes FSBO sales tough and time-consuming, especially without prior real estate experience. Furthermore, whatever fee savings you make are frequently offset by the fact that FSBO houses generally net lower prices overall. According to research, they often sell for 5-7 percent less than houses sold through a standard listing agency.
Is An Open Listing Worth It?
It might be, but it is totally dependent on your specific scenario and the market you wish to target. An honest broker or agent is the ideal person to inquire about this. They are the ones that observe the market and understand the specific sales atmosphere. As long as you pick the appropriate authority, you'll have access to reliable guidance and information.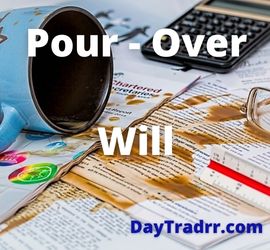 A Pour-Over Will is a special type of last will and testament used in conjunction with a trust-based estate plan. A pour-over will is simply used to direct any assets that have not been funded into your revocable living trust to go there after you die.  It is not used to regulate the transfer of all your property. In other words, it effectively designates your trust as the beneficiary of any property that your trust does not currently own. A pour-over will is a type of last will and testament that acts as a safety net for any assets not given to or included in a living trust. An important part of creating a living trust is that it needs to be properly funded.  This requires that your personal assets must be transferred into the trust and retitled into the trust's name.