Sheriff Sale Auction – What Is a Sheriff's Sale?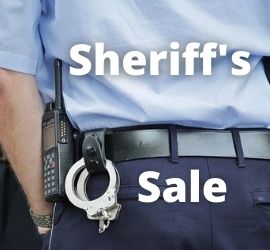 A sheriff sale auction or sheriff's sale is a public auction where foreclosed or repossessed property is sold by local law enforcement. The proceeds from the sale are used to pay mortgage lenders, banks, tax collectors, and other lienholders who have financial claims on the property. A Sheriff sale happens at the end of the foreclosure process, or when the property owner can no longer make good on their mortgage payments. A Sheriff's sale can also occur to satisfy judgment and tax liens ordered by a court.
A sheriff sale auction is a public event. Interested buyers can bid on foreclosed and repossessed properties. Usually, the initial owner of a property is unable to make their mortgage payments.  In that event, legal possession of the property reverts back to the lender or bank. The lender will then attempt to sell it to recover some, or all, of the outstanding mortgage balance.  Sheriff's sales take place locally and are usually conducted at the county level. Sheriff sale auctions occur quite frequently. You can check with your county sheriff's department to find out when they are scheduled.  Depending on the location, they can occur at least once a month.  In some jurisdictions, they occur every week.
A Sheriff Sale Auction – How It Works
A sheriff's sale is usually an auction conducted by local law enforcement at the county level. The sale is open to the public. The sale typically either takes place in the sheriff's office or at the county courthouse, frequently on the front steps. However, there is a growing trend to hold auctions online. When successfully completed, a sheriff's deed is issued, giving the home's title to the high bidder.  The deed is then recorded in the county records.
An auction can occur only after the lender has notified the borrower of default and allowed for a proper grace period.  This is to give the borrower every chance to catch up on mortgage payments. The auction is designed for the lender to get repaid quickly for the remaining loan that is then in default. These auctions often occur on county courthouse steps.  They are managed by the local law enforcement authorities, which is why they are called sheriff's sales or sheriff sale auctions. The property is auctioned at a publicly published place, date, and time.  Notices of each auction can be found in local newspapers and on many online sites. A successful auction will sell the foreclosed property to the highest bidder.
The Authority to Sell
A sheriff's sale does not happen without authorization by the court. In foreclosure proceedings, lenders or taxing authorities file lawsuits for a foreclosure order directing or allowing the sale. When a creditor obtains a judgment, the court will issue a directive to the sheriff to sell the property.  It is sometimes called a writ of execution or real property levy,  In many states, the debtor has an opportunity to exempt the land before it can be sold to satisfy a judgment.
Notice of a Sheriff's Sale
Homeowners generally get notice of a sheriff's sale in the foreclosure paperwork through the mail. Advertisements for foreclosure sales are normally published in newspapers in general circulation.  Notices are published typically four to six weeks before the sale. Many county Sheriff Departments also maintain a list in their office or on a website of the properties going to auction.
You can search your sheriff's office online listing of sales or your local newspaper's classified section for advertisements of sheriff's sales. These notices will identify the property being sold, the court proceeding name and case number, and the date, time, and place of the sale. You will also see terms of the sale such as the method of payment and whether the property is being sold "as is." Depending on your state, the sale notice may also be posted on the property. The time period and frequency of advertisements vary by state or city. (Source: legalbeagle.com & nolo.com)
Sheriff Sale Vs. Foreclosure
A sheriff's sale is similar to a foreclosure auction. At a foreclosure auction, a lender is selling a property it has repossessed.  However, in a sheriff sale, the property was repossessed by a lender through a court order. California operates a system of non-judicial foreclosure.  This means the lender does not need a court order to seize and sell a home. If a home is foreclosed in California, it is much more likely to be sold at a foreclosure auction than at a sheriff's sale.
In general, when a property is sold through a regular foreclosure auction, the lender is usually selling a property. However, if the property is to be auctioned off through a sheriff's sale, the foreclosure cannot take place without authorization from a court. Once the lending institution or taxing authority receives a judgment, the court will issue a directive for the sheriff's office to auction the property.
Foreclosure
A foreclosure is a legal action where the property used as collateral in the mortgage document is sold to satisfy the debt.  Foreclosure can also occur for unpaid taxes and liens.
Default on mortgage payments – The process initiates when the owner defaults on the mortgage payments. Ownership is then passed to the holder of the mortgage or a third party that has purchased the property at a foreclosure sale. Enforcement of foreclosures, including related evictions for the property, is carried out by local law enforcement. The sheriff's office is not interested in hanging onto a house, and banks don't want to become landlords. Therefore, auctions are conducted once the foreclosure process has run its course.
Unpaid taxes – Foreclosure proceedings can also be initiated by a tax authority. When income and property taxes go unpaid, the federal government, municipalities, and other tax authorities can attach tax liens to real estate. Whoever attaches the lien to the property has a claim on that property. If these liens go unpaid, tax authorities can pursue this unpaid debt through the court system and foreclosure proceedings.
Where Does a Sheriff Sale Auction Take Place?    
Sales typically take place in the sheriff's office or at the county courthouse, often on the steps outside. A sheriff's sale is open to the public. Lenders sometimes attend or send a representative in an effort to bid to try to buy back their own property. This practice by the lender is permitted. Generally, everyone must have certified funds available before they can bid on a property.
How to View Properties
Sheriff sale auctions are always advertised and publicly posted.  You can search your sheriff's office online listing of sales or your local newspaper's classified section for advertisements of sheriff's sales. Each property will usually include a docket number, a sheriff's department number, or a court case number. It will name the plaintiff in the foreclosure action and the defendant. It will include the property address and a description of the property, as well as the debt amount or "upset price."
What's an Upset Price? 
The upset price is the minimum amount that the lender will accept for the property. The property won't be sold if bids don't meet this amount.  The upset price might be lower or higher than the actual judgment amount.  This is the amount of money the lender is entitled to recover to cover its losses. The plaintiff's attorney or another representative will sometimes bid on the property to try to drive the price up.
Can a Homeowner Stop a Sheriff's Sale?
As a homeowner, you can take action to try to keep your home and to prevent a sheriff's sale from happening.
It depends on your particular circumstances as well as state and federal law.  Actions include:
Go to court – You can challenge the foreclosure in court.  Check the foreclosure papers you received or consult with an attorney to find out the deadline to respond to the foreclosure action.
Modify your loan – You can apply for a loan modification.  Banks would rather see you make regular payments than spend money in court.  Be sure to apply before any deadline under state law or federal law expires.
Reinstate your existing loan – Contact the lender and see if you can pick up where you left off on the existing loan.  Again, don't miss the deadline set by state law or your mortgage contract.
File for bankruptcy
Pay off the loan – Pay the loan off through some other means. (Source: nolo.com)
In some states, the owner of the defaulted property may be able to regain it, even after the auction.  Usually, it involves paying in full the lien and any associated costs. This is called the right of redemption.  This law varies from state to state.  Sometimes, even among counties, municipalities, and districts.
How to Prepare for a Sheriff Sale Foreclosure Auction 
If you are a potential buyer, you may want to do a full coverage title search in advance.  This should include all properties you think you might be interested in if you plan to bid. Some areas allow you to conduct this search online. Others require that you conduct the search at the main courthouse. You can also hire an attorney to properly handle this for you.
Your goal is to find out if there are any liens against the property at the local, state, or federal level. This can include tax liens placed by the Internal Revenue Service or local taxes or even water charges. It can be a judgment lien placed by another of the homeowner's creditors. You might be responsible for paying any of these liens that were not wiped out during the foreclosure court proceedings. Contact the town or municipality where the property is located to find out if there are any open permits on the property. You'll have to spend money to close them out if you purchase the property.
How Much Money Do You Have to Bring? 
This will differ depending on the amount of money you're willing to spend on a property.  It also depends on the amount of down payment that's required. The amount you must put down can vary by location and lender so check in advance. Some towns require 10 percent while others require 20 percent. The funds must be in cash, certified check, or money order. Personal checks are rarely if ever accepted. For example, a sheriff's sale publishes that a 10 percent down payment must be made on successful bids.  If the most you're willing to pay for a property is $180,000, then you must bring proof of funds of $18,000 to the auction.  That calculates to 10 percent of the ultimate purchase price you are willing to pay.
When Do You Have to Close on the Property? 
Once again, this will depend on the rules published for each individual sheriff's sale.  However, you must usually close within 30-45 days of successfully bidding on the property and submitting your down payment. Some sheriff's sales require that you close on the property sooner than 30 days.  Others have a longer closing period 60-90 days. Many sheriff's sales will publish these rules online.  Or, you can call or go to the sheriff's office for a full list of requirements. (Source: thebalancesmb.com)
Is a Sheriff's Sale Final?
Depending on state law, the former owner might have options for a brief period even after the auction. If state law provides a post-sale redemption period, the former owner can repurchase the home and keep it. State law might give the former owner the right to live in the home during the redemption period.  Even if they don't exercise their  right to redeem. However, if they don't move out when their legal right to occupy the home expires, they'll most likely get evicted.
Under very specific circumstances, former owners might be able to challenge the sheriff's sale by filing a motion to set aside and nullify the sale. A court might set aside the sale if the former owner can show that there was fraud, mistake, or irregularity in the conduct of the sale. For instance, if the bank failed to send appropriate notice or the auction wasn't properly advertised in the newspaper as required.  These failings can be grounds for an objection to the sale. (Source: nolo.com)
Buying a home is often the biggest investment most individuals ever make in their lives. Usually, a real estate agent to there to help negotiate the transaction.  However, you might also consider a real estate attorney to guide you through the legal process. A Real Estate Attorney is legally authorized to prepare and review documents and contracts related to the sale and purchase of a home.
Buying a home isn't always a simple purchase.  It also requires the legal transfer of property from one entity to another. Sometimes, the legal side of this transaction can complex.  Therefore, it makes sense for home buyers and sellers alike to enlist an attorney who can look out for their best interests. In some states, it is required.