V Stock – What Investors Should Know About Visa Inc.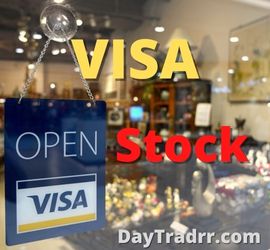 Visa Inc. (V stock symbol) is a payments technology company offering digital payment and value-added services in over 200 countries and territories. The company connects electronic payments between consumers and merchants, financial institutions, businesses, strategic partners, and government entities. VisaNet, the Company's transaction processing network, facilitates the authorization, clearing, and settlement of payment transactions.  The VisaNet platform offers a variety of products and value-added services to its financial institution and merchant clients. Services include transaction processing and Visa-branded payment products. For example, Tink is an open banking platform that enables financial institutions, fintech, and merchants to custom-build financial products and services. Tink customers can move money, access aggregated financial data, and use smart financial services such as risk insights.
More About Visa Inc.
Visa, Inc. provides digital payment services worldwide. The company promotes global trade by facilitating the exchange of value and information among a global network.  Visa brings consumers together with corresponding merchants, financial institutions, businesses, strategic partners, and government entities. To this end, the company provides debit cards, credit cards, prepaid products, commercial payment solutions, and global ATMs. Dee Hock founded the company in 1958, and it is headquartered in San Francisco, California.
In essence, Visa Inc. acts as a global payments clearinghouse. Consumers, merchants, financial institutions, businesses, strategic partners, and government entities can all make digital payments through the company. It runs VisaNet, a transaction processing network that allows payment transactions to be authorized, cleared, and settled. The company also provides card products, platforms, and value-added services. It operates under Visa, Visa Electron, Interlink, VPAY, and PLUS brands. Visa Inc. has entered into a strategic agreement with Ooredoo to provide Visa cardholders and Ooredoo customers in Qatar with an enhanced payment experience.
V Stock: Annual Reports – Financials – SEC Filings
Visa Inc. is incorporated in the state of Delaware. Visa Inc is primarily in the business of business-to-business financial services. For financial reporting, their fiscal year ends on September 30th. This page includes all SEC registration details as well as a list of all documents (S-1, Prospectus, Current Reports, 8-K, 10K, Annual Reports) filed by Visa Inc.
Visa is the world's largest payment processor. It processed nearly $9 trillion in purchase transactions in fiscal 2019. The company is present in over 200 countries and accepts payments in over 160 currencies. Its systems can process over 65,000 transactions per second.
V Stock Dividend
Upcoming dividend of US$0.45 per share.  Eligible shareholders must have bought the stock before 09 November 2022.
Payment date: 01 December 2022.
The payout ratio is a comfortable 20% and this is well supported by cash flows.
Trailing yield: 0.9%.

Lower than the top quartile of American dividend payers (4.4%).
Lower than average of industry peers (1.5%).
Visa has been paying an uninterrupted dividend for a long time, and it has been fairly consistent. As a result, investors can be optimistic about the future dividend potential.  The annual payment during the last 10 years was $0.22 in 2012, and the most recent fiscal year payment was $1.80.  In other words, Visa has increased its distributions at a rate of 23% per year during the last decade. It should be encouraging for investors to see strong dividend growth has been strong without any cuts for a long time.
V Stock Forecast
Full-year 2022 earnings: Revenues and EPS in line with analyst expectations
Full-year 2022 results:
EPS: US$7.73 – This is up from US$5.64 in FY 2021. Over the last 3 years on average, earnings per share has increased by 11% per year but the company's share price has only increased by 5% per year, which means it is significantly lagging behind earnings growth.
Revenue: US$29.3b – This is up 22% from FY 2021. Revenue was in line with analyst estimates. Earnings per share (EPS) were also in line with analyst expectations. Revenue is forecast to grow 9.5% p.a. on average during the next 3 years, compared to an 11% growth forecast for the IT industry in the US.
Net income: US$15.0b – This is up 25% from FY 2021.
Profit margin: 51%  – This is up from 50% in FY 2021). The increase in margin was driven by higher revenue.
The 68 analysts offering price forecasts for Visa have a median target of 260.13, with a high estimate of 305.00 and a low estimate of 204.00. The median estimate represents an 83.42 difference from the last price of 217.00. (Source: businessinsider.com)
Is Visa a Buy, Hold, or Sell?
Visa is securely insulated and less vulnerable to interest-rate risk. While Visa processes card transactions, the company doesn't issue credit cards.  Therefore, Visa neither earns nor bears the risk associated with the interest or fees paid by cardholders. Client services, data processing, cross-border transactions, and value-added services, such as licensing fees, generate revenue for Visa. Its network reaches over 200 countries and regions. Visa Inc. holds a commanding position in the rapidly expanding digital payments market. Moreover, Visa earnings are recovering as the effects of the coronavirus fade and more people travel internationally. Holiday spending should boost revenue as well. However, digital payment competition is fierce. And, global economic risks are constant.
Shares of Visa Inc. (NYSE: V stock) have earned an average recommendation of "Moderate Buy" from the thirty-one brokerages that are currently covering the firm, Marketbeat Rating reports. Four research analysts have rated the stock with a hold recommendation and twenty have issued a buy recommendation on the company. The average 1-year price objective among analysts that have updated their coverage on the stock in the last year is $248.14. (Source: americanbankingnews.com)
Visa stock has received a consensus rating of buy. The average rating score is Aa3 and is based on 63 buy ratings, 5 hold ratings, and 0 sell ratings. (Source: businessinsider.com)
Bottom line: Visa stock is not a buy, as no discernible pattern has formed. Keep an eye on the Dow Jones card giant, as it compares favorably with many top-rated large-cap stocks to buy or watch. (Source: investors.com)
V Stock News
Chairman & CEO exercised options and sold US$2.6m worth of stock (November 2022)
On the 19th of November, Alfred Kelly exercised options to acquire 13k shares at no cost.  He then sold these for an average price of US$211 per share. This trade did not impact his existing holding.
For the year to September 2016, Alfred's total compensation was 5% salary and 95% other compensation. This indicates that these sales could comprise a meaningful part of their income for the year.
Since December 2021, Alfred's direct individual holding has decreased from 176.86k shares to 166.73k.
Company insiders have collectively sold US$35m more than they bought, via options and on-market transactions in the last 12 months.
Visa Inc. Announces Ryan McInerney as CEO, Effective February 1, 2023
Ryan McInerney has been named CEO of Visa, effective February 1, 2023. McInerney is currently the President of Visa, a position he has held since 2013. He will succeed Alfred F. Kelly, Jr., who has been the company's CEO since 2016 and Chairman since 2019. McInerney has been responsible for Visa's global businesses as President, delivering value to Visa's financial institutions, acquirers, merchants, and partners in over 200 countries and territories worldwide. He has managed the market teams, business units, product teams, merchant teams, and client services for the company.
Ryan is a seasoned leader in the payments and consumer banking industries, with over 20 years of client-facing experience. During Kelly's tenure as CEO, Visa experienced accelerated growth across all revenue streams.  All this, while solidifying its position as a company with a strong brand, cutting-edge technology, and exceptional talent. Kelly successfully led the company through a period of fundamental change in the payments ecosystem and a major inflection point in Visa's history.  He oversaw technological advancements, geographic expansion, and new payment methods.
Procter & Gamble (PG stock) is one of the world's largest consumer product manufacturers, with annual sales of nearly $70 billion worldwide. P&G provides branded consumer packaged goods to consumers in North and Latin America, Europe, the Asia Pacific, Greater China, India, the Middle East, and Africa. The business is divided into five divisions: beauty, grooming, health care, fabric, home care, and baby, feminine, and family care. The Company sells products primarily through mass merchandisers, grocery stores, membership club stores, drug stores, department stores, and distributors.  Also, through wholesalers, baby stores, specialty beauty stores, e-commerce, high-frequency stores, pharmacies, electronics stores, and professional channels, as well as direct to consumers in approximately 180 countries and territories. The Procter & Gamble Company was founded in 1837 and is headquartered in Cincinnati, Ohio.