What Are Drag-Along Rights?
Drag-along rights let majority shareholders drag minority shareholders into the sale of a company if minority holders are given the same price, terms, and conditions.
Share offerings, mergers, acquisitions, and takeovers can all be complicated transactions. The more parties involved, the more complicated and difficult a change of ownership can be.  In view of this, certain rights may be included upfront as part of the terms of a share class offering or a merger or acquisition agreement. A drag-along rights clause is significant in the sale of many businesses.  This is because many new owners or purchasers often want the entire control of a firm. Drag-along rights aid in compelling the minority shareholders to bow to the will of the majority.  As a result, the sale of 100 percent of a company's stocks can be made available to a prospective acquirer if required.
Drag-along rights are provisions or clauses in a shareholder's contract.  These provisions allow majority shareholders to compel minority stakeholders to participate in the sale of a business. However, the majority owner must offer the minority shareholder the same price, terms, and conditions as apply to any other seller in the deal.  Drag-along rights may be explicitly defined in an agreement.  However, the distinction between majority and minority can be a little less clear. Share classes in a company may be of several sorts. The bylaws of a corporation will specify the ownership and voting rights of its shareholders.  These voting rights may have ramifications for majority vs. minority.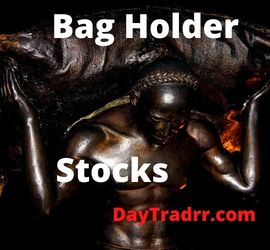 Bag holder stock is stock or securities sold to someone else at a high price.  Then, the value of the stock suddenly drops. The person left with the stock is the bag holder and the security itself is considered bag holder stock.  In other words, someone else is left holding the bag while the stock price plummets.
A bag holder is a colloquial phrase for an investor who continues to hold a security that loses value until it becomes essentially worthless. In some circumstances, the bag holder doggedly holds on to their losing position for a lengthy period of time.  All the while, the investment loses value. The bag holder typically buys in near the peak, when people are hyping the asset and the price is high.  However, bag holders hold it all the way through steep declines, losing a lot of money in the process. Bag holders often fall victim to the disposition effect, also known as the sunk cost fallacy.  This irrational mindset drives individuals to cling to their positions for abnormally long periods of time.