What is a Certificate of Incumbency?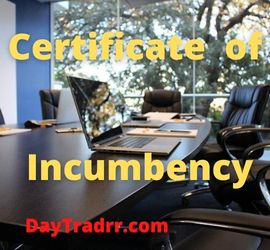 A certificate of incumbency is an official corporate document that identifies the firm's current directors, officers, and key executives. An incumbency certificate of incumbency is issued by a corporation or limited liability company.  It includes the names of the firm's current directors, executives, and, in certain cases, major shareholders. It identifies who holds specific positions inside the business and is most commonly used to verify the identification of persons who are allowed to participate in legally binding transactions on behalf of the corporation. An incumbency certificate is also known as a register of directors, certificate of officials, or secretary certificate outside of the United States.
A Certificate of Incumbency is an important document. It is required when signing official papers, creating accounts, or joining partnerships. The opposite party must be able to validate the names of the people they're interacting with.  In other words, they're working with an official corporate representative. Otherwise, it would be impossible to guarantee that papers were actually legally binding between entities.  This is especially important with multinational agreements.
Certificate of

Incumbency – A Closer Look
A certificate of incumbency is also known as a certificate of officers, an officer's certificate, a register of directors, or a secretary's certificate.  By whatever name it is called, each essentially gives the same information. The company secretary issues incumbency certificates, which commonly feature the corporate seal.  Depending on the jurisdiction, it may require being attested by a public notary. An incumbency certificate is an official act of the company. Third parties can depend on its veracity because the secretary is in charge of preserving corporate records.
It establishes who the directors, officers, and important stakeholders are.  A Certificate of Incumbency clearly identifies each individual and what role they have. This document is primarily used to verify who has the authority to engage in legally binding agreements on behalf of the firm.  As such, it clearly states who the company's signatories are. Typical examples of individuals commonly identified in the Certificate:
President
CEO
Secretary
Treasurer
Officers
Registered Agents
Key Shareholders
The document verifies the identification of those who are allowed to sign official corporate papers.  Its purpose is to identify them as legally admissible. An incumbency certificate lists all pertinent information about the company's directors and officers, including the incumbent's name, position, election or appointment status, and period of service. A signature sample is frequently included for comparative reasons.  The company's secretary signs the bottom after all authorized parties have signed and printed their names. Any modifications to the certificate can be made via an amendment or by producing a new certificate of incumbency.  New versions will render the prior version outdated and invalid.
Certificate of Incumbency Example
The names and positions of the corporation's officers and directors should be listed on the certificate of incumbency. It should also include if each individual was appointed or elected, as well as their duration of service.
Officers – The Board of Directors appoints the senior level managers of a business to their roles. Officers are in charge of a business's operations. A CEO, secretary, treasurer, and other officials are among the officers.
Secretary – The corporate officer in charge of keeping the company's records.
Company Minutes – A written document that contains all of the company's important records and documentation. Corporate articles, bylaws, directors' resolutions, shareholder resolutions, annual reports, and minutes of shareholders' and directors' meetings shall be included in the minute book.
Jurisdiction – The Certificate of incumbency is governed by the law of the jurisdiction where the business was incorporated.
Signing and Execution – The certificate of incumbency should be signed and dated by the secretary of the corporation.  Depending on the jurisdiction, it may or may not be necessary to have the signing notarized.
Anyone who is involved in a business transaction with the corporation may want to verify an officer's declared status.  Therefore, it is standard practice to seek an incumbency certificate from the company's secretary. In reality, a bank or other financial institution typically requests an incumbency certificate when opening an account.  Financial institutions are required to verify the authority of the individual claiming to be a company's authorized signatory. Similarly, when attorneys prepare contracts for business transactions, they frequently require an official incumbency certificate.  Again, this is to identify who has the legal authority to bind the corporation to the contracts.
Using a Certificate of Incumbency
A certificate of incumbency is used to verify the identity of a company's or corporation's signing officials. It identifies who has the legal power to make decisions on behalf of a Limited Liability Company (LLC) or corporation.
Business Dealings
When entities want to do business with a firm, they need to know who has the power to execute agreements. This guarantees that the person signing the agreement has the power to make commitments on behalf of their company. Otherwise, when someone does not have the authority, the contract becomes invalid. The contract is not legally binding, regardless of what arrangements were made.
Opening Business Banking Accounts
Opening bank accounts is another key corporate function that necessitates a certificate of incumbency. The bank will want to know who your authorized agents are. Certificates of incumbency are normally a requirement for opening new accounts.  This is in addition to any legal documents that establish your firm under state laws. This allows banks to verify that the person opening the business account has the necessary authority. It all comes down to the legal ramifications of commercial interactions.  Banks and financial entities must only operate with authorized agents of firms or face major legal consequences. When someone walks into a bank to create a business account, rest assured the bank will want to make sure that whoever is there is allowed to open accounts in the company's name.
Corporate Lawyers
If a company wants to hire legal counsel they'll need to verify the name and position of the individual initiating the relationship.  New counsel will also want to become familiar with who the company's key decision-makers are. They'll need to know this for required signatures on formal, legally binding documents issued on the company's behalf.
Registered Agents
Certificates of incumbency might also reveal the identity of the company's registered agent. As a result, you may grant a third party the authority to enter into agreements on your behalf.  This is advantageous from a business standpoint.  Particularly if you prefer to engage with corporate lawyers who make decisions on your behalf. Certificates of incumbency also assist attorneys in determining to whom they can disclose sensitive legal information about the organization. Even if you don't intend to delegate daily tasks to a lawyer, your representative will need to know who holds the key positions in the company.  Also, who's authorized to have access to critical legal information.
International Business Dealings
When doing business abroad, the Certificate of Incumbency is frequently necessary. If the foreign country is a signatory to the Hague Convention, you will most likely need to attach an Apostille to the notarized Certificate before sending it to an international institution.  And in addition, if the company is going to be doing business with a foreign enterprise or in a foreign country the certificate of incumbency must be attested by the State or/and the United States Agency. For that procedure are going to be additional fees. (Source: unemployment-gov.us)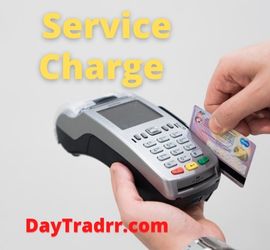 A service charge is an additional fee covering administrative, processing, or service costs that are provided when purchasing a product or service.  Typically, a service charge covers additional benefits that are linked to the principal product or service that is being purchased. Usually, the fee is charged at the time of the transaction. Many sectors, including restaurants, banks, and travel and tourism, levy service charges. When collected, these fees may cover either service given to the consumer or administrative or processing costs. Service charges are paid to the firm directly. They are not the same as tips, which are provided to the employee who provides the service. The amount of a gratuity is entirely up to the consumer.
A service charge is generally imposed to cover something specific.  For example, when a bank charges a fee for using an ATM that's not part of its network. Or, when a retailer charges a fee for making a payment with a credit card. It is sometimes referred to as a customer service fee or maintenance fee. Companies typically charge a service fee for things that go beyond the scope of purchasing their goods and services. It generally covers things that require more work on the company's end.  For instance, more individual interaction between the customer and company representatives.