What Is Voluntary Life Insurance?
Voluntary life insurance is a type of financial protection that pays a cash benefit to a beneficiary if the insured dies. Employers may provide it as an optional benefit. In exchange for the insurer's promise of reimbursement upon the insured's death, the employee pays a monthly premium. Premiums for voluntary life insurance plans are often less expensive due to employer sponsorship than premiums for individual life insurance policies offered in the retail market.
Select employers may provide voluntary life insurance as an optional group life insurance coverage. Company-sponsored voluntary life insurance policies have cheaper rates than individual term insurance policies.  Some may even be paid entirely by the employer. For an additional fee, policyholders may usually raise coverage limits or add coverage for a spouse or kids. Voluntary life insurance, like other types of life insurance, provides a death benefit to the employee's specified beneficiaries if the employee dies.
Voluntary Life Insurance – A Closer Look
Many insurance companies provide optional life insurance plans with extra features and riders. A plan could, for example, offer the option of purchasing insurance over the guaranteed issue amount. Policyholders may be asked to produce proof that they fulfill minimal health criteria, depending on the amount of the increase. Another is coverage portability.  This refers to a policyholder's ability to keep their life insurance policy in force if they should change jobs. For transferring a policy, each employer has its own set of rules. For example, it takes between 30 and 60 days following termination, and it necessitates the completion of documentation.
Another alternative is to accelerate benefits.  This means that if the insured is pronounced terminally ill, the death benefit is paid during their lifetime. Life insurance for spouses, domestic partners, and dependents, as defined by the insurance provider, is also available. Finally, most businesses provide the option of deducting premiums from compensation, which is a nice advantage. Payroll deductions are useful for employees and enable them to pay premiums quickly and easily. Some insurers provide optional riders, like premium waivers and accidental death and dismemberment riders, in addition to extra benefits. Riders are usually implemented at the time of issuing and for a modest additional premium.
Employees are frequently offered voluntary life insurance at hiring or shortly after. Employees who choose not to enroll may be allowed to do so again during open enrollment or following a qualifying life event.  For example, marriage, the birth or adoption of a child, or divorce. Choosing the proper voluntary life insurance coverage depends on each person's individual circumstances.  Moreover, it involves examining not only present circumstances but future plans as well. It's also a good idea to compare an employer's plan to those offered by other companies.
Voluntary Life Insurance Types
Employers generally offer two types of voluntary life insurance policies: voluntary whole life and voluntary term life. Employers are more likely to provide optional term life insurance than voluntary whole life insurance.
Term life insurance
Voluntary term life insurance is a policy that protects you for a specific amount of time.  For example, five, ten, or twenty years. Voluntary term insurance does not allow for the accumulation of cash value or variable investment. As a result, premiums are lower than those for a full-life policy. Premiums are fixed for the duration of the policy. However, they may increase if or when the policy is renewed. Voluntary term life insurance is more likely to be offered by employers than whole life insurance. Also, term life insurance is much less expensive than a whole life policy. Unfortunately, you'll also be less likely to be able to take a term policy with you when you quit your job.
Whole life insurance
Voluntary whole life insurance covers the insured's full life. If you choose whole life coverage for a spouse or dependant, the insurance covers them for the rest of their lives. The sums available for wives and dependents are usually lower than the amounts available for employees. Whole life insurance is more expensive than term life insurance, sometimes by a factor of 10. Whole life insurance never expires, so your employer is more likely to let you take it with you when you leave. Voluntary whole life insurance also includes a tax-free cash value account that grows in value with interest or returns over time. Cash value accumulates in accordance with the underlying investments, just as it does with permanent whole life plans. Some policies only pay a set rate of interest on the cash value.  Others allow for variable stock fund investing.
Who Needs Voluntary Life Insurance?
People who are medically ineligible for inexpensive life insurance coverage in the private market may be eligible for a voluntary life insurance policy.  Typically, these policies do not need a medical exam up to a specified coverage level. A policy via the workplace is likely to be considerably cheaper than a  guaranteed issue life insurance policy on the open market.  While the initial coverage limit is normally capped at a modest amount, no medical exam is necessary.
Someone who currently has a life insurance policy but wants additional coverage may also benefit from voluntary life insurance. For example, consider an individual qualified for a $100,000 indexed universal life policy who then develops health concerns.  This individual may desire to increase their existing death benefit by enrolling in their employer's insurance program.  This can provide additional low or no-cost coverage if the company pays the premium.
How To Get Employer Sponsored Life Insurance
You must first be employed by a firm that provides this benefit in order to receive optional life insurance. This sort of life insurance is not available on the open market.
Enrollment
If your company offers optional life insurance, you should sign up as soon as you are recruited.  Otherwise, as soon as possible after that, such as after 90 days or after a life qualifying event. In certain circumstances, you can sign up during the open enrollment period for your company's benefits. Also, you might be able to acquire more coverage for yourself or a family member.  However, you'll likely have to fill out more paperwork, agree to higher payments, and possibly undergo a medical test or questionnaire. You may be given the option to purchase additional life insurance riders to your policy during open enrollment time.  For example, long-term care or accidental death.
Example 
As a complement to their existing whole life insurance, some participants select voluntary term life. John, for example, is married and has a $100,000 whole life insurance policy. After the birth of his two children, John has been advised his current policy is insufficient and to increase his coverage.  John should have at least $250,000 in life insurance while his children are minors. Fortunately, John's workplace offers affordable voluntary term life insurance.  During the next open enrollment period,  John chooses to augment his current coverage.  The additional term policy for $150,000 requires minor paperwork, a modest increase in premium, but no formal medical examination.  As a result, John's term coverage is boosted to $250,000 ($100,000 + $150,000 = $250,000 total coverage).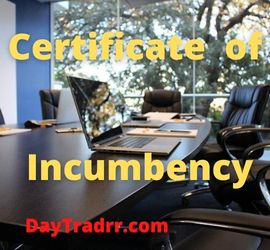 A certificate of incumbency is an official corporate document that identifies the firm's current directors, officers, and key executives. An incumbency certificate of incumbency is issued by a corporation or limited liability company.  It includes the names of the firm's current directors, executives, and, in certain cases, major shareholders. It identifies who holds specific positions inside the business and is most commonly used to verify the identification of persons who are allowed to participate in legally binding transactions on behalf of the corporation. An incumbency certificate is also known as a register of directors, certificate of officials, or secretary certificate outside of the United States.
A Certificate of Incumbency is an important document. It is required when signing official papers, creating accounts, or joining partnerships. The opposite party must be able to validate the names of the people they're interacting with.  In other words, they're working with an official corporate representative. Otherwise, it would be impossible to guarantee that papers were actually legally binding between entities.  This is especially important with multinational agreements.