Amazon Stock Split – What Does it Mean to Investors?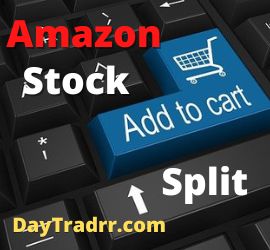 June 6th, 2022 marked the first trading day after Amazon's announcement of a 20-for-1 stock split back in March of 2022. After trading above $2000 per share prior to the stock split, Amazon shares were revalued at $120 per share. In Monday trading, shares closed 2% higher at $124.80.  This is after reaching an intraday high of $128.70 earlier in the session. The stock split is purely cosmetic and adds no value to shareholders.  Nevertheless, shares rose over 8% in the five days leading up to the split.
Stock splits reduce a company's share price while increasing the number of shares outstanding. As a result, stock splits are typically stated to be irrelevant because these changes cancel each other out. While this is true in principle, a firm will not arbitrarily split its shares. Not unless it is convinced that the business will continue to perform well.  Studies have shown that the typical company that splits its stock outperforms, at least in the short run.
Analyst reaction
Apart from cosmetics, there are other advantages to splitting a stock. There are retail investors, for example, who do not have access to fractional shares.  Or, investors who prefer to invest through options that cannot be fractional.  With the share price reduced dramatically, they may now contemplate purchasing Amazon for the first time following its split. A reduced price could also enable Amazon to be included in the price-weighted Dow index. These variables may make Amazon stock more accessible while also potentially raising the price due to increased demand.
Amazon's stock split comes at a critical time for investors. Shares of AMZN are down 23% year-to-date, and down 20% in the past year. While the split doesn't change the value of the shares, a lower price point may attract more price-conscious buyers who have been waiting to own the stock, (Source: Caleb Silver, Editor-in-Chief, Investopedia.)
What a 20-1 Amazon Stock Split Means to Shareholders
A 20-for-1 split means that Amazon shareholders received 19 more shares for every share they had before to Monday. Amazon shares finished at $2,447 on Friday before markets opened on Monday.  The price of shares after the split was around $122, or $2,447 divided by 20.
One potential benefit of the split is that it may increase the likelihood of the shares being added to the Dow Jones Industrial Average. Adding high-priced stocks to the Dow is always problematic since the index is weighted based on price.  Therefore, a percentage change in a high-priced stock impacts the index more than one with a lower price. A four-digit stock would immediately give it the most sway in the index. The Amazon stock split makes shares much more affordable to regular investors resulting from a 20-1 price reduction.
Despite the recent selloff, Amazon has returned over 1000 percent in the last ten years.  The company has a good track record dating back more than two decades. Because of its success, Amazon has grown to become one of the world's largest corporations.  It also boasts one of the highest weightings in the S&P 500. Highly successful blue chips, like Amazon, eventually rebound and continue to deliver. So, buying after a stock split at the lowest valuation in recent memory could present a terrific chance.
Amazon Stock Split – The First Since 1999
June 6th, 2022 marks Amazon's first stock split since 1999.  However, it is the fourth stock split since its IPO in 1997.  The company was a fraction of its current size with an IPO share price of $18. It also split 2-for-1 on June 2, 1998, 3-for-1 on January 5, 1999, and 2-for-1 on September 2, 1999. Amazon shares are up more than 4,300% since the last split was announced.
Amazon went public on May 15, 1997, and the IPO price was $18.00, or $0.075 adjusted for the stocks splits that occurred on June 2, 1998 (2-for-1 split), January 5, 1999 (3-for-1 split), and September 1, 1999 (2-for-1 split), and June 3, 2022 (20-for-1 split). On March 9, 2022, Amazon announced a 20-for-1 split of common shares, effective on June 3, 2022, for stockholders of record on May 27, 2022. July 21, 1999 Amazon announced a 2-for-1 split of common shares, effective on September 1, 1999, for stockholders of record on August 12, 1999. On November 19, 1998, Amazon announced a 3-for-1 split of common shares, effective on January 5, 1999, for stockholders of record on December 18, 1998. April 27, 1998, Amazon announced a 2-for-1 split of common shares, effective on June 2, 1998, for stockholders of record on May 20, 1998.  (Source: amazon.com)
After Amazon Stock Split – Google and Tesla are Next
Google's Alphabet (GOOGL) also announced a 20-for-1 stock split that would take effect in July. Tesla (TSLA) declared its intention to split its stock but has not specified the ratio or timetable of the split.
Google stock split – In February, Alphabet announced a 20-for-1 stock split that would be implemented on July 15. The Google stock split requires shareholder approval and will be put to a vote. In addition, the business recently launched a new stock repurchase program.  The company plans to repurchase up to an additional $70 billion of its own shares. Alphabet has generated steady double-digit revenue and EPS growth over the past decade. GOOGL shares have returned over 150 percent over the last five years.  This outperformed the S&P 500's total return of approximately 80 percent over the same period.
Tesla stock split – The company said in a regulatory filing, and also in a tweet, that it plans to make a request at its upcoming annual shareholders meeting to increase its number of authorized shares so that it can split the stock in the form of a dividend. Tesla Inc. said that its board has approved the proposal, but that the dividend is contingent on final board approval.
Frequently Asked Questions
Do shareholders lose money with an Amazon stock split?
Amazon's market value doesn't change.  So, shareholders don't lose any money because of a stock split. "Splits, of course, have no fundamental effect on share value. They're the stock market equivalent of exchanging a $20 bill for two $10s. But in the buoyant market of early 2022, they were met with bidding wars by giddy traders." (Source: bloomberg.com)
Is a stock split good?
A stock split allows a firm to divide each current share into many new shares.  They do this while maintaining the company's market capitalization and the total value of all its shares.  These shares represent each investor's ownership in the company. A stock split can be beneficial to both present and prospective shareholders. Generally speaking, stock splits are a good sign because they mean that a company has done so well that the price of a single share is too expensive for an average retail investor.
Should you buy before or after a stock split?
Theoretically, stock splits by themselves shouldn't influence share prices after they take effect since they're essentially just cosmetic changes. But Bank of America research analysts found that since 1980, S&P 500 companies that announced stock splits "significantly outperformed the index 3, 6, and 12 months after the initial announcement." Over 12 months, stocks that announced splits gained an average of 25% compared with a 9% gain in the S&P 500. (Source: BankofAmericaResearch)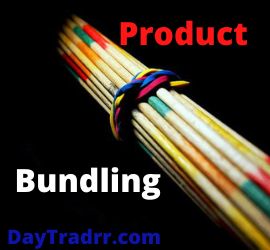 Product bundling is a marketing technique where several individual goods or services are sold together as a combined package at a lower price than when purchased separately. Companies will combine multiple of their products or services into a single combined bundle.  Most often, at a cheaper price than they would charge clients if they purchased each item separately. Bundled together, the items are marketed and distributed as a single unit for a single price. This method is used to persuade customers to purchase additional products.
A McDonald's Happy Meal is an example of a product bundle. Instead of selling a burger, Coke, and french fries separately, they are sold as a package. Ultimately, the bundle results in higher sales than selling each item individually. Mixed product bundling occurs when a brand combines popular items sold separately into a packaged set.  The bundle is usually accompanied by a bonus item or a discounted price. This way, customers can buy one or two items individually, or they can buy bundled products grouped together.