Ancillary Health Insurance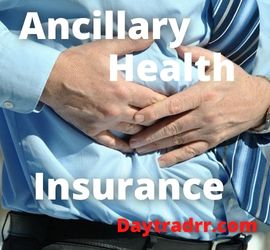 Ancillary Health Insurance adds supplemental coverage or extends the coverage you already have for expenses that often accompany many medical treatments. This coverage also refers to benefits that are used to supplement group health insurance. These can include highly sought-after employee benefits like dental, vision, and life insurance.
Ancillary benefits provide secondary health insurance coverage that covers miscellaneous medical expenses.  These additional benefits can protect you from unexpected expenses that can be incurred during hospital stays.  In other words, they can cover additional or related expenses such as ambulance transportation, blood, drugs, and medical supplies like bandages. These benefits are usually layered on top of major medical coverage so they are purchased through the same policy and insurance carrier.
Ancillary Health Insurance Benefits
Ancillary health insurance premiums are often paid by both the employee and the company. Certain ancillary benefits may be selected and paid by the employee.  However, others may be wholly or partially funded by the company. If the employer contributes to the cost of an ancillary benefit, they will usually pay at least half of the premium for such coverage.  The remaining portion is usually funded through an employee payroll deduction. When the employees need to use the auxiliary benefits, a claim is submitted directly to the insurance provider. In the event of a life insurance benefit payout, the employee's policy beneficiary is usually paid directly.
There are various reasons and conditions under which an employer could pay the cost of auxiliary benefits.  Employers may be able to benefit from a variety of scenarios. For example, some firms may contribute 100% of their employees' healthcare premiums.  However, they may require those employees to contribute voluntarily for vision and dental insurance. Whatever options the employer makes, the company should fully understand the circumstances that best fit its specific position. An insurance agent from the insurance provider is usually available to discuss the needs of employers as well employees.  These consultations help to best determine how to structure payment of any benefits to be shared by employer and employee.
Voluntary vs. Employer-Contributory
Ancillary benefits can be either voluntary or employer-provided. Employers often pay 50 (or more) of the premiums for employer-contributory supplementary benefits. Employees pay the premium amount remaining after the employer contribution through a payroll deduction. When an employee uses their benefits, a claim is filed.  The benefits are paid directly to the network-contracted provider or the member if a network provider is not used. In the event of an insured death, the beneficiary is paid directly for life insurance claims.
Examples of Ancillary Health Insurance
Disability insurance – A group disability plan can help employees in the event they become too ill or injured to work for an extended period. Short-term and long-term disability insurance replaces some of the pay workers lose when they cannot work because of an injury or illness that is not related to their job. According to the Bureau of Labor Statistics, 42 percent of private industry workers had access to short-term disability insurance plans offered by their employers. Employers that offer group disability insurance typically pay the full cost.
Life insurance – Group life insurance provides employees with the benefit of guaranteed coverage without the need for underwriting.
Vision & dental coverage – Among the most frequent auxiliary employee perks are vision and dental coverage.
Critical Illness Insurance – If you are diagnosed with a covered sickness, critical illness insurance (CII) will pay you a lump sum payout. It is intended to assist people in covering the costs of expensive illnesses and procedures such as heart attacks, strokes, and cancer. Critical illness insurance can cover costs that health insurance does not cover, such as deductibles and out-of-pocket expenses. You can also use the earnings for routine bills and travel expenses.
Accident insurance – gives out a lump sum if you get certain types of injuries as a result of an accident. It covers a wide range of injuries caused by an accident. Dislocations, lacerations, concussions, burns, and other serious injuries are possible. It can be used to augment health insurance if an accident results in medical bills that your health insurance does not cover.
Ancillary Health Insurance – Benefits to Employers & Employees
When it comes to ancillary health insurance benefits, there are clearly advantages for both employers and employees. Employers might take advantage of regulations that allow employees to contribute pre-tax funds to cover these supplementary benefits. Aside from monetary rewards, an employer may boost their visibility and reputation in the marketplace by providing excellent employee coverage. Employers do not have to pay the entire premium for ancillary benefits.  Often, simply offsetting a portion of the expenses for employees can have a major impact.  This can enhance employee productivity and morale while lowering the amount of employee income that is taxable.
Advantages to employers
Taxes – Lowers employer FICA contributions if the business takes advantage of Section 125.  This allows employees to use pre-tax dollars for these benefits
Reputation – Ancillary benefits enhance the employer's reputation among employees
Attract better talent – Offering ancillary benefits makes a business more competitive in the employment marketplace
Group rates – When the risk is spread among a large group of people, premiums stay reasonable.
Flexibility – Ancillary products respond to workers' needs to access services that are important to have a good quality of life
Benefits to Employees
Pre-tax dollars – They can use pre-tax dollars to pay for ancillary benefits, thus lowering their taxable income.
Affordable – The cost is affordable.  Risk is spread among a large group of people to keep the premiums reasonable.
Flexible coverage – Ancillary products respond to workers' needs to access important benefits, such as dental insurance, vision insurance, and group term life insurance.
Preventive care – With ancillary dental and vision benefits, workers can get preventative care, not just care when a problem develops.
Peace of mind – They can enjoy the peace of mind and security that comes with ancillary benefits and group insurance.
Bucketing in finance is an unethical practice where a stockbroker confirms a requested trade has occurred without actually placing the order. As a result, the broker profits by deceiving the client about the execution of that specific trade.
It specifically refers to a circumstance in which the broker verifies that a requested trade occurred but does not execute that order. The broker will then make an attempt to execute the order at a lower price than the one offered to the client. The broker then keeps the spread between these two prices as profit, without informing their client. A bucket shop is a brokerage firm that participates in unethical practices such as bucketing.