What is Base Rate Neglect?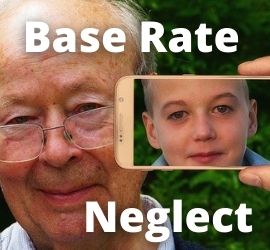 Base rate neglect refers to a tendency to rely more on specific information than actual probability and statistics when making judgments.
Base rate neglect is an error in reasoning.  Too little weight is placed on the base rate possibility or actual probability of an event occurring. In behavioral finance, base rate fallacy is when investors erroneously judge the likelihood of a situation by not taking into account all relevant data. Instead, investors might focus more heavily on new "inside" information without acknowledging how this impacts original assumptions.  Many instances exist in which emotion and psychology heavily influence investor decisions.  As a result, it causes people to behave in unpredictable ways.
In other words, it causes individuals to ignore actual probabilities and statistical information in favor of using irrelevant information.  Often,  incorrectly believing it to be relevant to make a judgment that ignores the initial probability entirely.  This usually stems from the irrational belief that statistics and probability don't apply for one reason or another when, in fact, they do.
What Causes Base Rate Neglect
There have been a number of explanations proposed for why the base rate neglect occurs. One of the main theories is that it is a matter of relevance.  We ignore base rate information when we classify it as irrelevant.  Therefore, we feel that it should be ignored. Prior to making a judgment, we categorize the information given to us into different levels of relevance. If something is considered irrelevant or we don't fully understand it, we discard it.  As a result, we do not factor it into the conclusion we draw.
It is not that we are incapable of integrating different types of information.  When two different types of information are assigned equal relevance, we will give them equal consideration. However, pushing information off or disregarding it completely is the more common reason we ignore vital information.  Also, we often value certain information more than we should.  Or, maybe we focus on one source of information when we should be combining it with other sources.
The more specific information is to a situation, the more relevant it appears. Detailed and personal information is, by nature, incredibly specific. As such, we denote it as highly relevant. Base rate information, on the other hand, although specific and precise is very general. As a result, we categorize it as low relevance information. In making a judgment, we take into consideration the information we consider to be relevant.  Naturally, we ignore that which has been deemed irrelevant. To many, this may feel like an effective strategy.  However, it can actually compromise the accuracy of our judgments.
Base Rate Neglect for Investors
When considering base rate information, two categories exist when determining probability in certain situations.
General probability – The first is a general probability.  What is the likelihood the market as a whole will rise or fall based on current economic trends?
Event-specific information – For example, how many basis points has the market shifted?  What percentage is a company off in its corporate earnings? How many times has a company has changed management.
Investors often tend to give more weight to this event-specific information above the context of the economy as a whole.  Oftentimes, they ignore base rates entirely.
Combat pay or imminent danger pay is a bonus to military personnel in addition to their regular military salary when they are deployed to a combat zone.
It is a tax-exempt monthly stipend.  The bonus is paid to active members of the U.S. armed services when they are serving in designated hazardous zones and is paid in addition to the person's base salary. The hazard bonus is not open only to combat soldiers. Any person enrolled in a branch of the U.S. military who is assigned to a designated hazardous area is eligible to receive additional combat pay. Spending as little as one hour on duty in a hazardous zone can qualify for an entire month's bonus.
 The extra bonus may be categorized as hostile fire and imminent danger pay and can be prorated for partial months. You can not receive both hostile fire and imminent danger pay at the same time.