Intel Competitors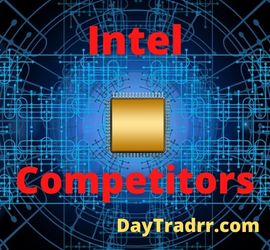 Intel Corporation is an American multinational corporation and the largest publicly traded semiconductor chip maker in the United States. The company is responsible for creating the x86 microprocessor, which is now found in practically all personal computers. Intel also sells microprocessors to big computer businesses, such as Apple, Dell, and Hewlett-Packard, who use them in their personal computers. Despite being an industry leader, Intel operates in a competitive market with several rivals vying for market share.  Intel competitors AMD, TI, Samsung, TSMC & others are looking to enhance their chip-making presence in the United States during the next three to five years.
In early 2021, chip shortages began to make headlines in the technological sector. Semiconductors continue to dominate the headlines on an ongoing basis. Recently, Intel stated that it will invest more than $20 billion in the development of two new chip plants in Ohio, USA. The goal is to increase output to satisfy the growing global demand for semiconductors. However, Intel is only the latest in a long line of companies aiming to grow their manufacturing presence in America.  Others include Samsung, Texas Instruments, and GlobalFoundries.  All are looking to enhance their presence in the United States during the next three to five years.
Intel Competitors – Microprocessors
AMD – Advanced Micro Devices
Advanced Micro Devices, is a semiconductor company that makes more than simply microprocessors. Both Intel and AMD design and manufacture motherboards, servers, and other computer gear. However, AMD is at the top of the list of Intel Competitors when it comes to CPU or central processing units. Intel and AMD are rivals more than competitors in this arena.  Much like Apple and Microsoft are rivals that go beyond competitors.  They both have their own set of requirements and devoted fanatics who will always prefer one over the other. Both firms' products are comparable in terms of price and quality. Intel's processors are largely found in the computers of huge corporations.  AMD's processors are preferred by aficionados and individuals who construct their own computers.
AMD goes head-to-head with Intel developing flash memories, motherboard chips, and graphics processors.  Its processors are utilized in game consoles, PCs, CPUs, and manufacturing and telecommunications systems. For the second quarter in a row, Intel has strengthened its lead in the x86 CPU market. In January 2021, Intel had a market share of 66.51 percent, while AMD had a market share of 33.49 percent. By June 2021, Intel had increased its market share to 71.58 percent at the expense of AMD. However, AMD continues to power 28% of gaming consoles. It is the world's second-largest maker of microprocessors, accounting for 20.5 percent of the market. When it comes to Intel competitors, AMD is Intel's main rival.
IBM – International Business Machines
IBM was formed in 1911 and became one of the world's earliest computer firms.  It was a pioneer in computer technology during the twentieth century with a number of remarkable achievements.  For example,  IBM invented the ATM, the hard disk, the floppy disk, the magnetic stripe, and many more cutting-edge technologies. It is one of the Dow Jones Industrial Average's (DJIA) 30 corporations and one of the world's largest employers.
IBM at one time offered a line of personal computers and laptops that utilized Intel processors.  However, it sold that division and now offers its own servers and mainframes that use its own proprietary CPUs.  This places it squarely in rivalry with Intel. Back in 2013, Big Blue announced a drive to open source most of its design, architecture, software, and firmware.  This effort is attracting many new customers to use its central processing units (CPUs) and gaining market share at Intel's expense.
Intel Competitors – Graphics Interface
Nvidia
Nvidia is a multinational tech company that designs graphics processing units and chips for mobile computing, gaming consoles, autos, and other markets. It also develops GPU processors for 3D graphics, virtual reality, and AI-powered devices.  Nvidia is one of the key players in the graphics processing unit (GPU) market and one of the biggest names in video games. While the company creates chips for smartphones and autos, many of its chips are utilized in supercomputers.  In fact, the company is now making efforts in the area of artificial intelligence.  Intel intends to release a new graphics card in the second half of 2021, directly competing with Nvidia's supremacy in that market. It plans to leverage this to compete in the data center, artificial intelligence, and machine learning markets.
Nvidia is in the process of acquiring ARM from Softbank for $40 billion. Cambridge-based ARM is a leading semiconductor licensor and one of Intel's top competitors. The acquisition was expected to close by Mar 2022, but the deal is in jeopardy.  This is due to ARM's unique role in the market. However, if Nvidia successfully acquires ARM, it will overtake AMD to become Intel's #2 competitor.
Intel Competitors – Smart Phones & Data Centers
Samsung
Samsung is a well-known multinational company with several business units. It beat Intel as the top semiconductor manufacturer by revenue in 2018.  However, Intel reclaimed that position in 2019. It's evident that both firms are keen to compete for the top rank. Of course, Intel and Samsung do not compete head-to-head in every industry. Intel's products are largely for desktops and laptops, whereas Samsung's chips are mostly for smartphones and data centers.
Samsung is the largest memory chip and smartphone manufacturer in the world. Samsung's key competitive edge over Intel is its enormous financial capabilities. The business will invest more than $10 billion to build an advanced logic chip manufacturing factory in Austin, Texas. Construction began in the second half of 2021, with plans to install production tools beginning in 2022.  Plant operations target the beginning of 2023. Further, Samsung will invest $116 billion in its semiconductor design division over the next ten years. Expect Samsung to use its massive financial resources to eat into Intel's market share.  Samsung makes no secret they desire to become the dominating player in the semiconductor sector.
Qualcomm
Qualcomm is the world's top manufacturer of mobile phone processors and 5G technology. Qualcomm's key competitive edge against Intel is its market leadership in 5G technologies. In 2021, around 450-550 million 5G devices will be shipped globally, expanding Qualcomm's addressable market. The business anticipates that annual sales of 5G chips would reach $10 billion in 2021, up from $6 billion in 2020. Qualcomm's semiconductor industry dominance makes it a worthy Intel competitor. It is the most effective Intel alternative for 5G mobile CPUs
Intel Competitors – Chipmaking
TSMC
TSMC is the world's largest silicon semiconductor wafer foundry. In 2020, TSMC's chip division accounts for 54% of total foundry revenue worldwide. The chipmaker announced investing a record $28 billion in 2021 alone.  This was to boost its own capacity and industry leadership. TSMC is constructing a $12 billion chip facility in Arizona, USA, which is slated to open in 2024. With this facility, TSMC will compete on American turf with Intel. Intel's rivals, such as AMD, Qualcomm, and Nvidia, rely on TSMC for wafer production. In the chipmaking sector, TSMC is Intel's main rival and chipmaking alternative.
Intel's Future
Intel introduced new technology in late 2018 that will fundamentally transform how the firm creates chips going forward. The new technology is called Foveros, a 3D chip-stacking technique that allows several logic chips to be layered on top of one other for the first time. As technology advances, chipmakers will be able to mix and match technological IP blocks with multiple memory components. This new chip-building technology will undoubtedly be the trigger for a slew of new applications and products.  As a result, Intel's market presence should expand as well as its list of competitors. Nevertheless, it promises to be a pioneering step in how future chip processing is done for the next generation.
Fervos 3D Chip-stacking
Foveros paves the way for devices and systems combining high-performance, high-density, and low-power silicon process technologies. Foveros is expected to extend die stacking beyond traditional passive interposers and stacked memory to high-performance logic, such as CPU, graphics, and AI processors for the first time. The technology provides tremendous flexibility as designers seek to "mix and match" technology IP blocks with various memory and I/O elements in new device form factors. It will allow products to be broken up into smaller "chiplets," where I/O, SRAM, and power delivery circuits can be fabricated in a base die and high-performance logic chiplets are stacked on top. (Source: newsroom.intel.com)
However, Intel does not have the funds to reclaim the process lead on its own, according to MotleyFool. As a result, it is requesting huge subsidies from the United States and Europe. In the United States, Intel is lobbying for the passage of the CHIPS legislation, which would provide $52 billion in subsidies to domestic chipmakers for the construction of new domestic factories. Intel is also requesting about $10 billion in subsidies from the European Commission to support the building of additional factories.
A centralized market is a system where orders are routed to a clearinghouse and buyers and sellers transact with the exchange and not each other. In finance, a centralized market is a financial network in which all orders are channeled to a single central exchange.  Generally, there are no other competing markets. The quoted prices of the different assets listed on the exchange are the only prices accessible to investors looking to buy or sell a particular asset. In other words, a centralized financial market does not have any competitive parties or other markets. It is centralized in such a way that all orders to buy and sell are routed to a central exchange. Traders in this form of financial market rely solely on the prices of securities quoted by the market or exchange.
One important feature of a centralized market is that pricing is entirely transparent and visible to everyone. Another important component in regulated markets is the establishment of a clearinghouse.  This function mediates between buyers and sellers to ensure that transactions are fair and accurate. This function is necessary because both buyers and sellers are interacting with the exchange rather than with one another.