Tesla Competitors – Tesla's 12 Biggest Competitors Worldwide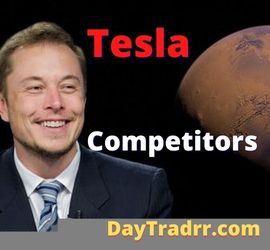 Tesla Inc. is the current leader in designing, manufacturing, and selling electric automobiles.  But there are Tesla competitors gaining rapidly on the leader as the EV market grows and matures.
Tesla Inc. (TSLA) is an American designer, developer, and distributor of electric vehicles and powertrains. Serial entrepreneur Elon Musk heads the company which was established in 2003 and is based in Palo Alto, California. It is estimated there are 1.2 to 1.3 billion cars on the road worldwide, including approximately 60 million electric vehicles. As a result, EVs have a limited market share, although it is still early. Tesla is unquestionably the industry leader in the design, manufacture, and selling of electric automobiles. Tesla sold its first electric vehicle, the Roadster, in 2008. Initially, the cost of purchasing an EV was prohibitively expensive for the general population. However, as technology has advanced, lower-cost models have been created.  Also, the barrier to entry for new entrants has been significantly reduced.
However, there are Tesla competitors are lining up outside and within the United States.  Numerous companies are rapidly positioning themselves to compete with, and possibly even surpass, Elon Musk at his own game. Below are Tesla's biggest competitors from across the globe.
Tesla Competitors – USA
Ford
Ford's investment in electrified cars, trucks, and SUVs is clearly yielding dividends. The Mustang Mach-E model, scored third in sales among electric sport utility vehicles in the United States last year.  Further, it was voted "2021 Electric Vehicle of the Year" by Car and Driver magazine. Ford also reported that its F-150 Lightning pick-up has had 200,000 bookings since its debut in May.  Estimates indicate that three-quarters of these purchasers will be new to the company. In order to satisfy demand, Ford wants to increase its production objective from 80,000 to 160,000 automobiles per year. Ford's EV portfolio also set a new sales record in January, with 13,169 vehicles sold. Sales were driven by the Mustang Mach-E, electric vans, and the much-anticipated F-150 Lightning.
General Motors
General Motors offers a variety of services to consumers including automotive design, manufacturing, and performance. Because of its devotion to customer service, General Motors is a key Tesla competitor in terms of customer service and global reach. Self-driving automobile technology has progressed from science fiction to reality. In 2016, General Motors purchased Cruise Automation, a self-driving car firm based in San Francisco. The major goal of this acquisition is to hasten the development of self-driving cars.
General Motors makes no secret of its desire to overtake Tesla as the top U.S. EV seller by the mid-2020s. To this aim, GM has announced a $35 billion investment in electric vehicle infrastructure through 2025.  General Motors recently posted a net income of $1.74 billion.  The company also trades at only 6.6 times its predicted earnings in the future year. GM's legacy business generates enough cash flow to fund investments in both electric and driverless vehicles.
Tesla Competitors – Germany
Volkswagen
Volkswagen is discreetly been making gains in the EV market through its ID series.  This is a decade after Tesla entered the scene. Volkswagen expects EVs to account for 50% of its US sales by 2030.  To that end, the company is investing tens of billions of dollars to achieve this goal. In addition, VW prepares to create 1.5 million electrified vehicles by 2025. This is in anticipation of the EU's new pollution limits.  The 82-year-old Volkswagen has survived multiple cycles of boom and recession.  The company has survived and prospered through war, and the partition and reunification of its host country.  Rest assured, VW will continue with steady, incremental gains on the road to overtaking Elon Musk.
BMW
Bayerische Motoren Werke (BMW) is a multinational automobile manufacturing firm that ranks twelfth in the world for vehicle production. BMW is known for its brand performance, making it a formidable Tesla competitor. BMW i is a BMW sub-brand.  It was created in 2011 and is in charge of designing and manufacturing hybrid and electric vehicles. In 2016, BMW i sales hit 50,000 vehicles. The BMW i3 Model became the world's third best-selling electric vehicle. The self-driving automobile is known as iNext, and production is set to begin in 2021.
Audi
Audi's e-Tron is a very conventional Audi. This is an electric car that doesn't seek to blur boundaries or introduce radical changes.  The intention is to simply persuade regular SUV buyers to make the jump. Audi refers to this as conceptual clarity.  Audi is developing further electrified platforms. The RS e-Tron GT is based on Porsche's Taycan. Audi and Porsche are collaborating on an all-new electric platform known as PPE in the future. This will serve as the foundation for the VW Group's larger vehicles (perhaps including Bentley).  In the meantime, VW's own MEB platform will serve as the foundation for its ID models. Audi's hybrid and electric vehicles are outfitted with cutting-edge technology. When fully charged, Audi's e-Tron model can travel up to 150 kilometers on a single charge.
Tesla Competitors – China
NIO
NIO was founded in 2014 and manufactures luxury electric automobiles for the international market. While its goods have generally received positive reviews, the firm has also earned a reputation for being rash and unpredictable. Some observers worry that its stock price is predicated on a hazy sense of "potential" rather than actual financial performance.  However, a similar complaint might be leveled against Tesla. In 2021, NIO supplied 91,429 EVs, a 44.3 percent increase over the previous year. NIO boasts quickly increasing delivery numbers and strong financial performance.  Combined, the metrics make it a potential option for investors looking for a Tesla alternative. However, the question remains whether this can be sustained and whether investor demand remains at these astronomical levels. NIO is a high-risk play.  But, the company's devotion to pushing boundaries, paired with its very low pricing, makes it difficult to dismiss.
XPeng Inc
XPeng is a Chinese electric vehicle startup that primarily targets the high-end and mid-range markets. The G3 SUV and P7 sports sedan were both well-received when they first appeared in 2018 and 2020, respectively. XPeng recorded 12,922 car deliveries in January 2022.  This is a whopping 115 percent increase over the same month the previous year. XPeng's automobile model pipeline includes the G9 SUV. When the G9 is released in the third quarter of 2022, the company expects a boost in margins.  The company's management plans to achieve break-even profitability by 2024.
Kandi Technologies
Of the Tesla competitors in China, Kandi Technologies remains one of the most established. Kandi is a small but formidable player in the EV auto market with strong upside potential. The company has been manufacturing the automotive designs of other Chinese businesses such as Geely since its inception. It has also provided over 40,000 EVs to cities throughout China as part of the world's largest CarShare program. Kandi, unlike many of its Chinese competitors, is known for its tiny and inexpensive EVs. In China, the carmaker now sells three models: the K23 multi-purpose EV, the Maple 30X SUV, and the K27.  Some say the K27 resembles an electric Mini Cooper. Kandi Technologies is also unique in that it specializes in other modes of transportation.  For example, electric tricycles, ATVs, and even go-karts.
Tesla Competitors – Japan
Nissan
Nissan is a multinational automobile company and is currently the world's largest manufacturer of electric automobiles. The company offers a varied selection of brands in more than 191 countries throughout the world.  This is due primarily to innovation in its products and services. Nissan is without a doubt a leading electric vehicle manufacturer. In 2021, Nissan sold 919,086 vehicles (up 12.1% year-over-year). Nissan Motor aims to have electric and hybrid models account for half of its global automobile sales by 2030.  The Japanese automaker is set to boost investment in the technology by more than 30% over the next decade. Nissan sees electric vehicles reaching 50% of its sales in China electric and 80% in Europe by the end of the decade. The move comes as global rivals rush to invest in EV development.
Toyota
Toyota, the world's largest automaker, has only recently entered the electric vehicle revolution. The Japanese carmaker was a pioneer in hybrid automobiles that used both electric and gasoline engines. However, it has been slower than competitors such as Volkswagen, General Motors, and Ford Motor to sell battery-only vehicles. Nevertheless, the automaker has enormous aspirations. By the end of the decade, battery-powered vehicles should account for one-third of total sales and nearly all Lexus luxury brand sales.
Toyota announced that one of its Japanese factories is preparing to begin production of the bZ4X.  This is an electric sport-utility vehicle developed in collaboration with Subaru. The vehicle will be available for purchase in 2022. The business plans to create 3.5 million electric vehicles by 2030.  This figure would account for almost one-third of Toyota's sales prior to the pandemic. Toyota will have 30 battery-powered automobiles on the market by the end of the decade.
Tesla Competitors – Korea
Hyundai
By the end of 2022, Hyundai Motor will have ten electric, eco-friendly vehicles in production.  Seven of these models will be SUVs. Hybrids, plug-in hybrid electric vehicles, battery-electric vehicles, and hydrogen fuel-cell electric vehicles will be included in the product push. Some of the models will be upgrades to existing models.  Others, like the new all-electric Ioniq 5 midsize SUV, will be entirely new. In 2021, Hyundai's plug-in electric car wholesale sales amounted to over 160,000.  This figure is up 44% year-over-year and represents 4.1% of the total wholesale sales.
Overall, Hyundai expects to sell 3.89 million vehicles globally in 2021, a 3.9 percent increase over the previous year. Despite continuous supply chain challenges, the company was able to improve its outcomes. The new goal is to sell more than 4.32 million devices in 2022. Of the Tesla competitors in South Korea, Hyundai appears serious to expand at a global capacity.
KIA Motors
Kia announced plans to accelerate its electrification timeline by expanding its battery electric vehicle (BEV) line-up to 14 models by 2027. The big EV9 SUV kicked off the electric assault. It will be followed by at least two new models per year. This is in comparison to the company's earlier goal to deploy 11 BEV vehicles by 2026.  The revised roadmap will include two new electric pickup trucks as well as an entry-level BEV model. Kia further claims that complete autonomous driving will be available in 2026.  Further, that it will be standard on 100% of new cars in important markets and 80% of overall sales.
Scalpers are financial traders who enter and exit the financial markets swiftly and repeatedly. Their goal is to make many small-profit trades rather than a few large-profit trades. Scalpers employ a trading style with the shortest trading cycle—even shorter than other forms of day trading. They are called scalpers because traders who adopt the style quickly enter and exit the market.  Their strategy is to skim or scalp small profits off many transactions throughout a trading day. As a result, scalpers enter and exit the financial markets quickly, usually within seconds.  Often they use higher levels of leverage to place larger-sized trades to achieve greater profits from minuscule price changes. These small trades can add up to the profit they might have realized from one higher-profit day trade.
In the context of market supply-demand theory, scalpers are opportunists who buy large amounts of in-demand items.  For example, new electronics or event tickets.  They make their purchases at ordinary prices in the hopes that the items will sell out. When that occurs, scalpers resell the items at a higher price – often, much higher. For instance, a scalper may purchase ten World Series tickets at the list price.  Then, the scalper attempts to sell them at an inflated price on eBay several days before the game. Under some conditions, this type of scalping is unlawful.  However, such transactions frequently take place on the black market and the dark web.