What is Giggle Finance?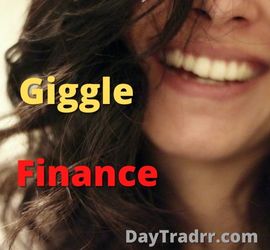 Giggle Finance is an online lending platform targeting small business owners and gig economy workers with quick access to up to $5,000 loans. The startup is a financial technology company with an online loan platform.  Their focus is to assist small business owners and gig economy employees making 1099 revenue.
The platform provides access to funds of up to $5,000 for qualified borrowers. Giggle Finance identifies these loans as technically, a cash advance "revenue-based financing scheme". Giggle Finance Requirements: To participate, you must be self-employed with at least 3 months of work history.  Additionally, you must show more than $3,000 per month in earnings.
"We launched Giggle to serve 1099s and gig workers with access to financing after seeing the slim options in the market,  Independent workers are the future of work and we're here to be the one-stop shop for all their financial needs. With an application to funding process in under 10 minutes, our speed and transparency help the independent workforce continue to thrive." (Source: Giggle Finance co-founder Jared Kogan)
Giggle Finance – Application Process and Requirements
To borrow money using the Giggle Finance platform, you must first complete an online application.  The Giggle Finance website claims it should take no more than 10 minutes. However, the online application is straightforward as it guides you through a multi-step process.
How Much Cash Does Your Business Need? – Let Giggle Finance know how much money you would like to borrow. Choose from four options: a) $500 to $1,000, b) $1,000 to $2,000, c) $2,000 to $5,000, or d) more than $5,000.
What Type of Business Do do You Own or Operate? Specify the sort of business you own or the organization from which you earn money. Enter the name of any company or choose from a list of popular gig economy employers. For Example, Uber, Doordash, Postmates, Lyft, Grubhub, Instacart, Shipt, and Shopify.
When Did You Start Your Business or Gig? – Simply select the month and year when you started your business or side-hustle.
Link Your Bank Account 
The next step is to link your bank account. According to Giggle Finance, adding your bank account will have no effect on your credit score. To link your bank account, you must first meet ALL three of the following requirements:
3 months or longer – Your bank account must be at least 3 months old
Primary Business account – Your bank account must be your primary business bank account
Meet minimum income threshold – You must verify that you earn more than $3,000 per month
After confirming that you meet all three conditions, you will be directed to Plaid, a secure technology platform. You will need to confirm your bank's name and then enter your login credentials, which will supply Giggle Finance with the information they need to evaluate if you qualify for a cash advance.
At this point, Giggle Finance will have the necessary information to analyze your income and expenses. If you qualify for a cash advance, you will receive an instant message notification.  It will detail the maximum amount you are eligible to borrow.  You may choose to deposit your funds straight in your bank account or receive the funds on a debit card.
Giggle Finance repayment
If you accept a cash advance from Giggle Finance, your repayment will be automatically collected by Giggle Finance.  Your future wages are accessed via automated debits through your bank account.  This continues until the amount you borrowed is repaid, plus their service fee. According to Giggle's webpage: "A Giggle advance allows a small business owner to access capital now by selling a portion of their future sales. It is collected by automated debits until the initial amount plus a service fee is repaid in full. Giggle gives you access to funds in minutes."
What is Plaid?
Plaid's software acts as a bridge between your bank or credit card accounts and other financial institutions. A portfolio management website, such as Personal Capital, or a budgeting app, such as Mint, are two examples. Sites like these require access to your account information in order to function. You may be wary of disclosing important financial information to another company. Plaid comes into play here. Its interface sits between Mint, Personal Capital, and Giggle Finance.  This is so you don't have to give them all of your bank login information. Plaid now works with several significant banks and credit card issuers.  Examples include Bank of America, Wells Fargo, American Express, and US Bank.
Plaid claims it takes the security of its customers' data very seriously.  Of course, most organizations that send financial information make the same claim. When transmitting financial data, Plaid employs encryption techniques.  For example, the Advanced Encryption Standard (AES 256) and Transport Layer Security (TLS). Knowing that your data is being transmitted utilizing these security settings may provide you with further assurance. Plaid adheres to a variety of other security best practices. (Source: daytradrr.com/finance/is-plaid-safe)
Giggle Finance – Frequently Asked Questions
What is the Cost of a Cash Advance from Giggle Finance?
The Giggle Finance website does not provide details about its service fee or interest rates.  This makes it difficult to learn how much you can expect to pay in fees without first applying for a cash advance.
Does Giggle Finance do a credit check?
According to the Giggle Finance webpage – "You don't need a high credit score or history to qualify for a Giggle advance or a 500-dollar loan. We'll only need to review your bank statements to determine how much you'll be able to borrow for your gig."
Giggle Finance Reviews
80% 0f the reviews posted on Trustpilot give Giggle Finance 5-Stars and an "Excellent" review.  For example:
5-Star ***** Review, June 2022: My experience with Giggle was great overall. It took a little longer to get funded but nothing major. Mike was friendly on my call so no complaints about customer service. My one downside was the loan was not reported to either credit bureau which was my whole purpose of getting the loan. I would reach out for another loan if needed. If you're on the fence about a loan, just go ahead and give them a try.
5-Star ***** Review, August 2022: Quick turnaround time and customer service have been excellent every time. I've used them for three loans already and the terms are reasonable and they will help you out of a tough spot. Good people and better company. Leslie has always been there and happily answers my questions even though I annoy her often. She's a reason I'm still there as well.
5-Star ***** Review, August 2022: I have had two loans with Giggle, and both lending rates were excellent and the personnel was more than gracious with their help throughout the whole process. I would not hesitate to work with them again on another loan. I highly recommend Giggle for your financial needs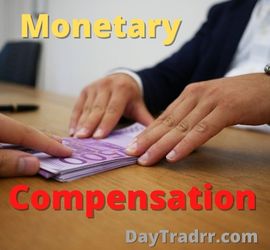 Monetary compensation is an exchange of value, often between an employer trading cash or currency to an employee for their labor or services.  The employer pays an employee in cash or currency in exchange for using their labor to execute specific designated activities. Therefore, monetary compensation is a financial incentive given to a person who does labor in the context of employment. It is also known as monetary benefits, representing the monetary amount paid to an individual by their supervisor in exchange for labor services.
In general, monetary compensation is provided to an employee in the context of employment.  It is given in exchange for providing labor services to their employer. As a result, the employee is deemed to trade their work services for a periodic monetary benefit. However, there are instances in which an employer may freely gift an employee beyond the company's stated agreements. For example, an employer who gives a one-hundred-dollar holiday present to an employee. In that situation, it is not really considered monetary compensation. This is because it is not remuneration for labor services but rather a gift. Nor, is it really considered a bonus as there were no milestones or objectives in place to measure achievement.