Is Plaid Safe?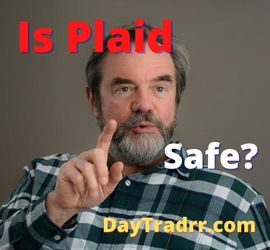 Is Plaid safe? Plaid is a reputable company handling sensitive financial data. However, Plaid recently paid $58 million to settle customers' privacy complaints.
Manually integrating your bank account information into each financial services app is a nuisance, to say the least. Conveniently, there are FinTech companies such as Plaid that can do this for you. If you use financial services such as Venmo, American Express, Upstart, or Robinhood, you already utilize Plaid, you just may not have known it. Plaid authenticates your financial information, allowing businesses to securely send critical information. You enter your information once and Plaid connects your bank account data to other software and financial applications. However, customers want to know how any software that accesses sensitive financial data is using their information. Furthermore, they want reassurance that their information, data, and money are safe. This begs the question, "Is Plaid safe to use?"
What is Plaid?
Plaid's software acts as a bridge between your bank or credit card accounts and other financial institutions. A portfolio management website, such as Personal Capital, or a budgeting app, such as Mint, are two examples. Sites like these require access to your account information in order to function. You may be wary of disclosing important financial information to another company. Plaid comes into play here. Its interface sits between Mint and Personal Capital, so you don't have to give them all of your bank login information. The company now works with several significant banks and credit card issuers, including Bank of America, Wells Fargo, American Express, and US Bank.
Plaid is a financial technology company that serves as the middle man between financial services and their users. Apps, like Venmo and Robinhood, use Plaid to securely link their users' accounts to their own platforms. This way, the financial apps never access your information, relying instead on Plaid to supply it for them. When you sign up for any of the 3,000+ financial applications currently powered by Plaid, you'll be asked to choose your financial institution from a Plaid-provided list. Next, you'll enter your login ID and password. Once you're logged in, Plaid securely shares the information you've chosen to link, such as your checking account number, with the app you're using. (Source: oefederal.org)
How Does Plaid Work?
Plaid enables financial apps to connect to your bank or credit card account. For example, a Plaid window will appear when you need to pass your bank credentials to another banking app. You'll fill out the form with your bank login and password. Plaid will use that information to contact your bank and verify your login information. If you've enabled two-factor authentication (2FA), you'll need to input that information as well. Plaid also offers its own 2FA if your bank does not provide that extra degree of security. Plaid is certified in internationally recognized security standards such as ISO 27001, and ISO 27701, and is SSAE18 SOC2 compliant, according to its website.
Once you've used Plaid to authenticate your bank information, the link is established.  It remains in place and ready to transfer the financial data you've authorized. This could include information such as transaction history, balance, or other data.
Is Plaid Safe to Use?
Plaid claims it takes the security of its customers' data very seriously.  Of course, most organizations that send financial information make the same claim. When transmitting financial data, Plaid employs encryption techniques.  For example, the Advanced Encryption Standard (AES 256) and Transport Layer Security (TLS). Knowing that your data is being transmitted utilizing these security settings may provide you with further assurance. Plaid adheres to a variety of other security best practices.  This is in addition to adopting best-in-class security processes when managing data to ensure the safety of your information.
Class Action Settlement
Plaid recently settled a class action in which it agreed to pay $58 million to individuals who had used its interface, including Venmo, Robinhood, and Coinbase users. The lawsuit was based on Plaid acquiring more data than it needed and storing the user's bank account login credentials on Plaid's systems. San Francisco-based Plaid also agreed in the nationwide settlement to change certain business practices, according to filings in California federal court made by lawyers for consumers.
The merged litigation comprises five proposed class actions filed against Plaid in 2020. The company provides a platform that allows users to connect their bank accounts to payment apps such as Venmo and Square's Cash App. Plaid allegedly "exploited its position as a middleman" to collect app users' banking login credentials.  Then, utilized that information to get access to and sell their transaction histories without users knowing due to claimed deceptive techniques, according to the plaintiffs' lawsuit.
Plaid has agreed to implement meaningful business practice changes designed to remediate alleged privacy violations, improve user control over their private login information and financial data, and safeguard their privacy going forward. (Source: reuters.com)
While Plaid did not acknowledge guilt, they did agree to remove some data, limit new data, and give users more data management.  This is in addition to the $58 million monetary settlement.
Frequently Asked Questions
Is Plaid Safe and Secure?
Plaid software connects your financial information to the financial sites where you want your data to be sent. Using a service like Plaid stops financial sites from directly accessing your banking and other information. Instead, you just disclose the information that you specify. Before authorizing the sharing of your bank account data with a third party, it's a good idea to explore any new platform or firm. According to their website, Plaid is certified in internationally-recognized security standards, like ISO 27001, and ISO 27701, and is SSAE18 SOC 2 compliant.
Are There Alternatives to Using Plaid?
Yes, there are other data transfer services available.  However, certain businesses may only employ one provider to translate data to and from multiple financial platforms. Furthermore, some data transmission services may only be available in particular places. If you want to use a different data transmission platform, you can look up which firms use the chosen service online.
Is Plaid safe and should I use it?
Plaid is a reliable platform that connects your personal or company bank account to financial institutions.  For example, online lenders and creditors, as well as other business tools such as accounting software. It's a popular data transfer tool for businesses all around the world.  Also, it can help you save time on time-sensitive tasks like combining your books or applying for a company loan. Data security is critical, especially when sharing personal information with a third party. Some consumers may be hesitant to use these technologies.  However, they are becoming an increasingly important element of financial technology for banking institutions and related platforms. The majority of users appreciate the convenience, ease, and related platforms. Many consumers prefer Plaid's efficiency, comfort, and reassurance to more traditional funding experiences.
Is Plaid Safe – The Bottom Line
Plaid is a fintech company that connects customers to other third-party financial applications. It is used by over 4,500 businesses. This includes Venmo, Acorns, Betterment, and a host of other fintech firms. When you use Plaid with a third-party application, you authenticate with your bank's login credentials. The third-party program never sees your username or password.  Instead, it just receives a notification that the login was successful.  This is followed by whatever information you provide access to. You may be apprehensive to entrust your sensitive financial account information to an outside organization.  However, Plaid promises to take security seriously. It does not sell or rent users' financial information.  Moreover, users have complete control over what data is shared with each partner.
The gambler's fallacy arises when a person incorrectly believes that the outcome of a previous event or series of events makes a specific random occurrence less probable or more likely to occur. This line of thought is wrong since past experiences have no bearing on the likelihood that specific events will occur in the future.  In other words, the gambler's fallacy refers to the mistaken belief that the likelihood of a random occurrence occurring in the future is influenced by previous instances of that sort of event.
For example, the gambler's fallacy can lead someone to believe that if a coin they tossed landed on heads two or more times in a row, it will most likely land on tails the next time. It is important for investors to be aware of the gambler's fallacy since it influences how people think. It doesn't just happen at the roulette table or when gambling. The gambler's fallacy can come into play when it comes to other areas of life – including investing and trading.