What is a Stash Party?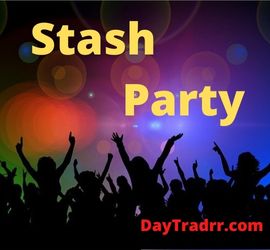 A Stash Party refers to a Stash Stock Party offered by Stash Investments LLC as part of their Rewards Program for Personal Portfolio Holders.
Participants may earn fractional shares of stock from featured publicly-traded companies and/or exchange-traded funds. 
By attending a Stash Stock Party, Stashers can get pieces (fractional shares) of offered stocks. The amount of stock depends on the number of people that attend the Stock Party.  The more people that show up, the bigger the split prize pot and your share of it.
To join a party, visit the Stash web page on party day, login, and tap Claim stock. If you're not a Stasher at the time, you can still reserve your stock with just your email address. Then, follow the instructions to complete your Stash account and claim your stock! To be eligible to receive a Stock Reward you must open a personal investment account advised by Stash that is in good standing with a valid email address.
Stash Party  – Free Bits of Stock
Every Stash Stock Party features party levels, which are defined by a certain threshold of party attendees. The more people that attend a Stock Party, the higher the party level reached.  As a result, the larger the Stock Party prize pot gets for everyone. The more people that attend a Stash Party, the larger the potential prize gets. Every few days, the app will notify members of an upcoming Stash Stock Party:
By attending a Stash Stock Party, Stashers can get pieces of offered stock(s). The amount of stock depends on the amount of people that attend the Stock Party—the more people that show up, the bigger the split prize pot (and your share of it) ultimately grows. To join a party, just visit this page (party.stash.com) on the party day, log in, and tap Claim stock. (Source: stash.com)
You can get a small fraction of free stock if you check in within their pre-announced limited window of time.  It will likely only be 10 cents or 25 cents worth of stock. This is undoubtedly a ploy to generate publicity.  Nevertheless, it can go towards covering your $1 monthly subscription cost – if you don't value the time invested. Also, you get the benefit of watching these small chunks of stock develop over time. They're like tiny little lotto tickets.
What is Stash?
Stash is a personal finance tool that may help just about anyone get a better handle on their finances. From budgeting to retirement planning, Stash brings banking, investing, and advising together in one app.  Stash helps over 5 million individuals achieve their financial goals—for a monthly fee. Stash's stated mission is to make personal finance a source of hope rather than anxiety.
Stash was launched in 2015 with the goal of assisting ordinary Americans in investing and growing their money. The all-digital experience focuses on assisting younger investors in successfully managing their money. The platform is designed to provide a learning experience on a wide range of investing and financial subjects. It also tries to avoid confusing financial jargon while maintaining investing flexibility.  For example, you can choose between manually selecting assets or using the completely automated Smart Portfolio option.
 How does Stash work?
Stash offers a combination of automated investing tools, financial education and access to advisers, and plain old-fashioned budgeting foundations. The platform helps new investors ease into the investment path. Other investment apps require larger minimum contributions.  But, Stash allows you to contribute in smaller amounts while still owning fractional shares in well-known firms. When you sign up for an account, you'll be given a questionnaire to complete that will assist to identify your risk tolerance and recommend investing possibilities. Then you add a bank account, choose an auto-deposit frequency, and get started. In addition to basic investment tools, Stash also offers a bank account with its own set of features.  This can assist you in steadily adding money to your savings account.
Single Stock Investing
You can invest in single stocks and ETFs using Stash. Select the "Companies" option in the app to learn about a company's fundamentals and to pick a specific stock. There are now over 1,800 stocks and ETFs available to invest in.
Is Stash Safe?
Stash brokerage accounts are held by Apex Clearing which is a FINRA-registered broker. Investments are protected up to $500,000 total by the Security Investors Protection Corporation (SIPC). Stash accounts are enrolled in the Apex FDIC-insured Sweep Program for uninvested cash. FDIC insurance covers deposits to the Sweep Program up to a $250,000 maximum per customer at each FDIC-insured bank that participates in the Sweep Program. However, cash is no longer insured by SIPC after it has been deposited with one of the participating banks under the Sweep Program.
Security – Stash uses cutting-edge security features. Stash employs bank-level 256-bit encryption on its website and enables two-factor authentication (2FA) for accounts when it comes to data protection.
Safety – Stash works to keep your spending safe and secure. As of this writing, the firm has not been linked to any data breaches or attacks.
SEC Registered – Stash is a registered investment advisor with the US Securities and Exchange Commission (SEC).
Stash offers FDIC-insured bank accounts through Green Dot Bank. Bank Account Services provided by Green Dot Bank, Member FDIC. Investment products and services provided by Stash Investments LLC, not Green Dot Bank, are Not FDIC Insured, Not Bank Guaranteed, and May Lose Value. (Source: stash.com)
Stash Party – Stash Account Setup
You can sign up on your computer or through the mobile phone App. After you join, you'll be asked to fill out some basic information and answer a few questions.  This assists in providing suitable investing options. The more accurate your responses, the better able they can evaluate your risk tolerance. So, make sure your responses are truthful. Based on your responses, you will be presented with a number of investment alternatives.  Each of which you may click to learn more about. On the site, there are presently thousands of investment opportunities.
Stash makes the account signup process simple and straightforward. You also have the flexibility to save the investment selection until later in the process. When selecting goals, Stash provides six options including retirement, budgeting, saving for the unexpected, building wealth, earning stock rewards, and financial advice. Once goals are selected you'll be prompted to pick the subscription plan and add a credit card to enroll.
They will next ask you to link your bank account. Stash connects to your bank account using either your bank username and password or your account and routing information. If you opt to link your account and routing numbers, you'll need to verify your bank account with a micro deposit.  This is essentially a tiny transfer into your bank account (under $1.00) that you'll verify. It might take up to six business days for this to be completed. Only one external bank account can be linked to your Stash account. Finally, you'll need to create a four-digit PIN to verify your identity.
Stash Party – Account Setup Steps
Answer basic questions –  To evaluate your financial goals and receive useful and pertinent advice for everything from budgeting to investing.
Pick a plan – Then you'll choose a membership plan, which starts at $1 per month. You'll have access to personal brokerage accounts, online banking, budgeting, and saving tools, the Stock-Back® Card, and investment advice and education. You can also add a retirement account (IRA) and custodial investment accounts for your children, depending on the plan you pick. Plans run from $1-$9/month.
Fund your account – You may fund Stash in two ways: via direct deposit and an early payday connection to another bank for recurring or one-time contributions, or via one-time transfers.
Bank, budget, and create goals –  You can divide your cash into multiple places, set objectives, and track your spending.  You can choose a Stash bank account and automated budgeting and saving features.
Invest in fractional shares –  You can start investing in fractional shares of thousands of stocks and ETFs with $1 or less once you've contributed money to your account. Stash is designed for long-term investment.  Trading windows are available four times a day.
Earn stock rewards –  Spend with your virtual or actual Stock-Back® Card to begin earning Stash stock as a reward for your daily purchases. Or, attend a Stash Party and claim your prize.
Is Stash right for you?
Stash may be a good option if you want access to both a managed portfolio and an individual brokerage account where you may choose your own investments. Stash also allows you to buy fractional shares, which allows you to diversify your portfolio with very little money. For example, you can buy tiny percentages of stocks or ETFs with as little as $0.01 to $0.05.
Stash isn't the only company that allows you to invest in fractional shares. This feature is currently available for free from other large brokers. So keep that in mind as you make your decision of where to invest. You may also acquire similar services for cheaper elsewhere if you only want automated investment management. You can also have an IRA handled by other Robo-advisors. While Stash is secure to use and is supported by respected organizations, it does not provide any form of a tax plan. Tax-loss harvesting, ways to lower the amount of tax you owe, and other sorts of tax mitigation are available from rival Robo-advisors. Therefore, you might want to seek elsewhere if you're searching for an app to assist you with your taxes.
Frequently Asked Questions
Does a Stash Party make you money?
It can. Stash banking customers who use the Stock-Back® Card will earn 0.125% stock on all of their everyday purchases and up to 5% in bonuses at certain retailers. Stash parties give away pieces of stock to members who attend Stash Stock Parties.  Those giveaways can be traded for cash or fractional shares of other stocks
Can you try a Stash Party at no cost?
On the day of a Stash party, go to the Stash website, log in, and hit Claim stock. You may still reserve stuff with simply your email address if you aren't a Stasher at the moment. Then, to finish your Stash account and claim your stock, follow the instructions. To be eligible for a Stock Reward, you must first create a Stash-advised personal investment account.  It must be in good standing and have a valid email address.  You can try out your first month of the Stash plan you choose at no charge.  Also, you can also receive a $5 bonus into your Personal Portfolio after you deposit at least $5.
Can you buy crypto with the App or at a Stash Party?
No, cryptocurrency is not currently a supported asset. Stash does say, however, that it's looking into adding crypto investing to its platform in the future. However, according to the Stash website, Stash will let you invest in cryptocurrency through funds offered by Grayscale.
Is Stash legit?
Yes. Stash is a legitimate app that can help individuals who are interested in investing. Stash is a registered investment advisor with the US Securities and Exchange Commission (SEC).  The Stash Invest app comes with a bank account backed by Green Dot Bank.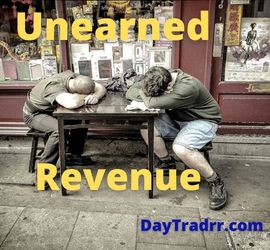 Unearned revenue is money received for a service or product that has yet to be provided or delivered by an individual or corporation. It can be viewed as a down payment on products or services that will be delivered to the buyer at a later period by a person or corporation. The seller has a liability equivalent to the income collected until the item or service is delivered as a consequence of this prepayment. It is recorded under current liabilities because this is likely to be resolved within a year. Deferred revenue and advance payments are other terms for unearned revenue.
This concept occurs in accrual accounting.  The revenue is recognized as unearned when a corporation receives cash, yet the items or services have not been delivered to the consumer. It is frequently connected with subscriptions,  circumstances in which the seller has an advantage over the customer, or when the vendor provides the buyer with personalized items. For the seller, this is helpful in terms of cash flow.  He now has the funds in advance and can use the buyer's money to purchase the necessary raw materials.