IBM: The Company Known as Big Blue
IBM (International Business Machines) is the company known as Big Blue.  The nickname Big Blue has been used since the 1980s. The name may have come from the deep blue color of the company's logo or the blue tint of its early computer displays. Big Blue became a moniker for IBM in the popular and financial press in the early 1980s. The origins of the name are unknown.  However, it is widely considered to relate to the blue color of the machines' casings. Whatever the origin, the moniker was affectionately embraced by IBM.  In fact, the company has named several high-profile projects and initiatives after it.
In a notorious 1997 chess tournament, IBM's chess-playing computer, Deep Blue, challenged and finally defeated grandmaster Garry Kasparov. An unnamed IBM enthusiast is credited with the first known published reference to the Big Blue nickname, which appeared in the June 8, 1981, edition of Businessweek magazine. Other speculators have linked IBM's Big Blue moniker to the company's logo and old dress code.  Another speculation has to do with the company's long history with blue-chip stocks.
How Did IBM Become the Company Known as Big Blue?
How did IBM become the company known as Big Blue? The name came about organically with no known single source.  The first official reference in print to IBM as "Big Blue" was in BusinessWeek magazine:
"No company in the computer business inspires the loyalty that IBM does, and the company has accomplished this with its almost legendary customer service and support … As a result, it is not uncommon for customers to refuse to buy equipment not made by IBM, even though it is often cheaper. 'I don't want to be saying I should have stuck with the "Big Blue,"' says one IBM loyalist. 'The nickname comes from the pervasiveness of IBM's blue computers.'"
History of IBM – The Company Known as Big Blue
IBM is a multinational technology business based in Armonk, New York, with operations in over 171 countries. The Computing-Tabulating-Recording Company (CTR) was formed in 1911 in Endicott, New York, by Charles Ranlett Flint.  CTR was a holding company that amalgamated three companies that together produced scales, punch-card data processors, employee time clocks, and meat slicers. The company known as Big Blue was renamed "International Business Machines" in 1924.  IBM would go on to become one of the world's top technological leaders, developing, inventing, and building hundreds of hardware and software information technologies.
Today, IBM is a multinational corporation that manufactures and sells computer hardware, middleware, and software.  The company known as Big Blue also provides hosting and consulting services in a variety of fields, from mainframe computers to nanotechnology. IBM is also a large research institution, setting the record for the most yearly U.S. patents generated by a business for the past 28 years (as of 2020).  During the 1960s and 1970s, the IBM mainframe, epitomized by the System/360, was the dominant computing platform.  IBM inventions include:
Automated teller machine (ATM)
Floppy disk & hard disk drive
Magnetic stripe card
SQL programming language & relational database
UPC barcode & dynamic random-access memory (DRAM)
Summary of Achievements
IBM technologies were crucial in the implementation of several US government projects.  For example, the 1935 passage of the Social Security Act and numerous NASA missions, ranging from the 1963 Mercury flight to the 1969 Apollo moon landing and beyond. The company known as Big Blue possesses the most patents in the United States of any company.  Further, IBM personnel have received numerous honors, including five Nobel Prizes and six Turing Awards. IBM, one of the first multinational enterprises emerging in American history, has a global footprint, operating in 175 countries and employing over 350,000 people.
The Company Known as Big Blue Downsizes in the 1990s
Mainframe computers—expensive medium- to large-scale computers capable of processing numerical data at high speeds—were IBM's expertise. The IBM Personal Computer, introduced in 1981, was the company's first foray into the burgeoning personal computer market. Despite the fact that this device had a large market share, IBM was unable to maintain its supremacy as a personal computer manufacturer. Smaller companies were able to enter the market and capitalize on new innovations.  Workstations, computer networks, and computer graphics quickly evolved as a result of new semiconductor-chip–based technologies. IBM's massive scale made it difficult for it to respond quickly to these accelerated rates of technological development.  As a result, by the 1990s, the business had shrunk significantly.
(Sources: ibm.com, en.wikipedia.org, britanica.com & investopedia.com)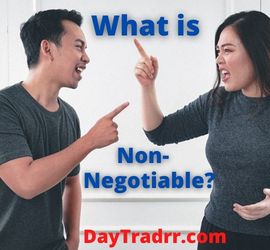 Non-negotiable means not open for debate or modification. As a result, it is a condition that cannot be changed through discussion or negotiation.  In business, it can refer to the price of a good that is firmly established.  Therefore, the price cannot be adjusted and is considered a fixed requirement by both involved parties. In this context, non-negotiable refers to a term or condition that is not open to negotiation.
In Finance, non-negotiable refers to something that cannot be bought, sold, exchanged, or transferred. The term relates to a financial instrument whose ownership is not easily transferable from one party to another.   Certain securities and financial assets are not transferable from one party to another. For example, a certificate of deposit (CD) can only be redeemed by the account holder. As a result, a CD is considered a non-negotiable financial asset and a person is unable to sell his or her CD to a third party.