Usain Bolt Net Worth – The Richest Runner in the World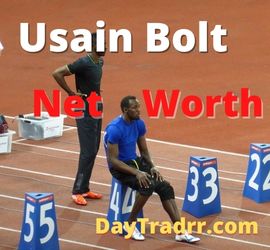 Usain Bolt net worth is approximately US$90 million. The retired Olympic sprinter still earns fees and royalties for endorsements, sponsorships, and guest appearances. Usain Bolt is one of the world's most recognizable athlete celebrities.  A standout sprinter, Usain holds official world records in the men's 100 meters, 200 meters, and 4×100 meter relay. Also, he has an unofficial record in the 150 meters. The runner who calls himself the Lightning Bolt has eight Olympic gold medals and 19 Guinness World Records. Usain Bolt's accomplishments off the track are equally impressive.  The athlete has turned his speed and notoriety into a highly lucrative empire.
According to a YahooFinance estimate, Usain Bolt's net worth is approximately US$90 million. When Usain Bolt was wrapping up his legendary career in 2017, Forbes reported that he was earning more than $32 million a year from his sponsorship deals alone.
Usain Bolt Net Worth: $90 Million
According to a YahooFinance estimate, Usain Bolt's net worth is approximately US$90 million.
Usain Bolt was rumored to be earning more than $32 million per year from his endorsement deals alone.
  According to
Forbes
, this was when the sprinter's illustrious career was coming to an end in 2017.  At the time, the highly marketable Jamaican sprinter was one of the highest-paid athletes in the world. The majority of his earnings were due to endorsement deals with companies such as
Advil
,
Sprint
,
XM
, and others, In fact, Usain was paid $10 million a year by
Puma
alone.
"Worrying gets you nowhere. If you turn up worrying about how you're going to perform, you've already lost. Train hard, turn up, run your best and the rest will take care of itself." – Usain Bolt
Usain Bolt Net Worth – Where the Money Comes From
Usain Bolt was the 45th highest-paid athlete in 2018, according to Forbes.  Bolt trailed Chicago Bulls shooting guard Dwayne Wade and Formula One winner Fernando Alonso. However, Bolt has a staggering endorsement-to-salary ratio of 30-to-1. Visa, Gatorade, Hublot, Virgin Media, All Nippon Airways, and others have used his image in advertisements and packaging. In Temple Run 2, a popular mobile game, he makes an appearance. Puma, Usain Bolt's biggest sponsorship partner, pays him $10 million per year.
Bolt joined the apparel company Puma when he was a teenager.  As stated above, his current contract pays him $10 million each year. Even now, this arrangement persists after retirement from international track and field competition. However, his notoriety and winning ways give him an unusual capacity to sell tickets. Bolt gets prize money from competitions and appearance fees of up to $400,000 just for showing up at events. In addition, he founded the company, Champion Shave in Miami. Bolt's success became legendary at the 2016 Rio Summer Olympics.  The sprinter clinched the "triple-triple", increasing his gold medal count from six to nine. However, the relay gold medal was forfeited after one of his teammates failed a drug test.
Usain Bolt remains one of the world's highest-paid athletes. He earns roughly $20 million per year on average, most of which comes from endorsements. Gatorade, Nissan, Visa, Hublot, Virgin Media, and Puma are among Usain's current sponsorship deals. As a matter of fact, Puma continues to pay him millions to wear their brand of shoes. In addition to appearance fees and prize money, Bolt also earns money for track meet appearances.  He charges between $250 and $300,000. Usain Bolt earned $31 million between June 2017 and June 2018. On-track earnings accounted for only $1 million of his total earnings. The remainder came from endorsements.
A statement of retained earnings shows the accumulated portion of a business's profits that are not distributed as dividends to shareholders. The retained earnings statement is a financial disclosure that shows how a company's retained earnings have changed over time. Analysts use this statement to understand how business profits are utilized.  They do this by reconciling the beginning and ending retained earnings for the period.  Also, by using information such as net income from other financial statements.
The statement of retained earnings is also known as an equity statement.  Other names are a statement of owner's equity or a statement of shareholders' equity. There are boilerplate templates for the statement of retained earnings available online. It is developed using generally accepted accounting concepts (GAAP).